Springing into May on the Cape!
Oh yeah its May in the Cape!  Nights are starting to get longer, days are bright and sunny!  It's great living in this part of paradise in SW Florida!  Holiday wise we have Cinqo De Mayo and Mother's Day on tap for the month.  School ends at the end of May signaling the beginning of the summer season just around the corner! There are a host of festivals and events for the month as well as time to just sit back and relax overlooking your favorite beach area, perhaps fishing off the pier, tasting some great fruits and veggies from the local farmer's markets or dinning al fresco on Cape Coral Parkway at one of the many outdoor restaurants and of course there is shopping, dinning and entertainment at Tarpon Point or Cape Harbour.  Whatever your flavor you simply can't run out of things to do in Cape Coral or other places in SW Florida – From Port Charlotte to Marco Island the SW coast is brimming with things to do – you are in the best place on earth!   Whatever beach area you choose you will be on the blue green Gulf of Mexico water with gently rolling waves and miles of beaches for swimming, sunning, shelling or just plain relaxing!
Your Place in Paradise Awaits!
The housing market was very strong this past season (Jan -April 2015)  The median sales price for homes in Cape Coral FL for Jan 15 to Apr 15 was $161,950. This represents an increase of 3.8%, or $5,950, compared to the prior quarter and an increase of 8.7% compared to the prior year. Sales prices have appreciated 67% over the last 5 years in Cape Coral. The average listing price for Cape Coral homes for sale on Trulia was $287,481 for the week ending Apr 15, which represents an increase of 2.9%, or $7,992, compared to the prior week and an increase of 2.1%, or $5,892, compared to the week ending Mar 25. Average price per square foot for Cape Coral FL was $116, an increase of 8.4% compared to the same period last year.  There are still opportunities for that affordable vacation home or permanent residence in the Cape Coral area!
What's Happening in Cape Coral?
If there is any indication that business is booming in Cape Coral take a ride along the Pine Island Road corridor!  Three years ago when I arrived the area was in early recovery mode from the recession and housing bust.  Today is has been transformed to a bustling commercial corridor with an intermingling of big box as well as small business establishments.  A  barometer of a healthy housing market with tempered growth as well as investment by the local government in infrastructure to include roads as well as central utilities projects. The Southwest Cape Coral central water and sewer system is almost complete and plans are in place to begin the project in the Northeast areas.  With a ten year master plan in place, all of Cape Coral will have a centralized water and sewer utility service in place eliminating the need fro well and septic systems.  The central sewer system will protect the water tables as well as the canal system from leeching any hazardous materials in the eco system. Central treated water systems will insure pure water for all residents and businesses.  With commercial zoning limited in Cape Coral, this 2,400 acre corridor is emerging as the new "main street" for future generations. With utilities in and many successful stores already in place, Pine Island Road continues to attract more and more businesses. Recently a host of new businesses have made Pine Island Road area home!
The newest addition is the grand opening of the new WAWA Fuel and  Store Center at the corner of Pondella and Delprado – opening day was April 24th and a capacity crowd was on hand as the first WAWA Center in SW Florida opened their doors. Based in Philadelphia PA, WAWA is now entering the SW Florida markets.  Signature heroes, a gourmet coffee bar, upscale food service as well as fuel services greeted the crowds.  And as a good neighbor local charities were invited to participate raising funds for the Harry Chapin Food Bank and the Muscular Dystrophy Association of Cape Coral!    Read all about it here_ http://www.cape-coral-daily-breeze.com/page/content.detail/id/543735/Wawa-fans-welcome-new-store.html?nav=5004
Cape Coral Parks and Recreation Guide May -Aug 2015
Click on the link to view the many upcoming activities available in Cape Coral – from Aerobics to Zumba there is something for everyone! Athletic events, classes at the Art Center, boating the yacht club, community golf courses, swimming at the community pool, whatever your interest it's here in Cape Coral!
http://capeparks.us/summer%202015/index.html
May 1, 2015 –   First Friday Downtown Hoedown street party. FREE! Live Music, DJ's, Food, Drinks, Vendors, and FUN! That's right, the street in front of Dixie Roadhouse & Rockade will be blocked off and we party in the street! Bourbon Street Style!  Live bands on the BIG STAGE with DJ John Country outside!
http://www.capecoral.com/content/downtown-hoedown
May 2, 2015 – Cinco de Mayo themed event from 4:00pm – 10:00pm on Saturday, May 2, 2015 brought to you by the Chamber of Commerce of Cape Coral and Iguana Mia Resturant
This is a family friendly event held in the Iguana Mia parking lot on SE 47th Terrace. We will have a kids area, live entertainment on dueling stages, and much more.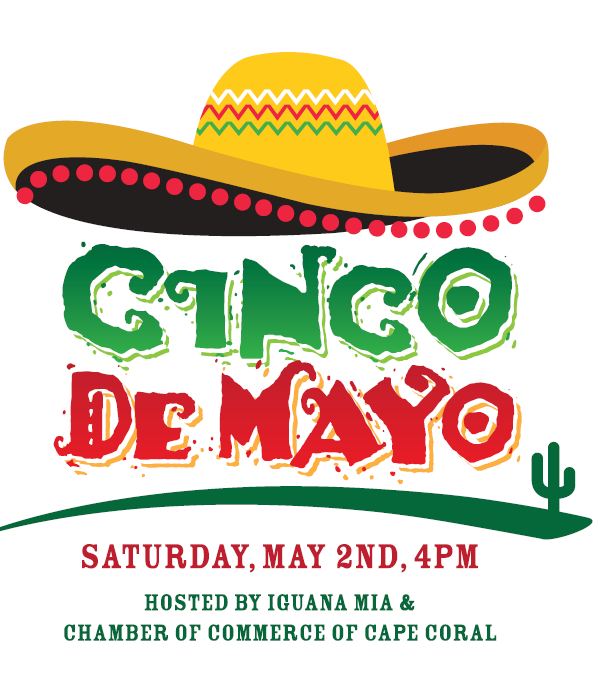 Iguana Mia,  1027 Cape Coral Pkwy. E   Cape Coral, FL 33904
http://web.capecoralchamber.com/events/Cinco-de-Mayo-2587/details
  May 6, 2015  Experience the beauty of Southwest Florida's amazing sunsets at the Cape Coral Yacht Club for the Sunset Celebration on the first Wednesday of every month. Listen to live music on the beach, shop from over 40 vendors selling unique crafts, jewelry and other gift items, or take a stroll on the pier. For vendor information please call (239) 574-0806
http://www.capecoral.net/calendar_parks/calendar_app/calendar_event_detail.html#1368#5/6/2015
 May 9, 2015
–
6th annual Cape Coral Triathlon! This is now a USAT sanctioned event and we are proud to partner with title sponsor Lee Memorial Health System. Each participant must have a valid USAT license (annual or one day). The race will feature a .25 mile swim from the Yacht Club Beach. 11 mile bike ride, and 5k run through the historic area of Southeast Cape Coral. Register at
www.active.com
Thank you for visiting our blog.  Our goal continues to provide you with a snapshot of the SW Florida area and lifestyle. We trust you found the information helpful and may spark your desire to visit. Should you need additional information or if you would like to start a property search or even visit  please feel free to
contact us
– there is no obligation and we would be more than happy to help and answer all your questions!   Have a Happy Spring and Happy Mothers Day to all Moms!