Oh yeah its May in the Cape!  Nights are starting to get longer, days are bright and sunny!  It's great living in this part of paradise in SW Florida!  Holiday wise we have Cinqo De Mayo and Mother's Day on tap for the month.  School ends at the end of May signaling the beginning of the summer season just around the corner! There are a host of festivals and events for the month as well as time to just sit back and relax overlooking your favorite beach area, perhaps fishing off the pier, tasting some great fruits and veggies from the local farmer's markets or dinning al fresco on Cape Coral Parkway at one of the many outdoor restaurants and of course there is shopping, dinning and entertainment at Tarpon Point or Cape Harbour.  Whatever your flavor you simply can't run out of things to do in Cape Coral or other places in SW Florida – From Port Charlotte to Marco Island the SW coast is brimming with things to do – you are in the best place on earth!   Whatever beach area you choose you will be on the blue green Gulf of Mexico water with gently rolling waves and miles of beaches for swimming, sunning, shelling or just plain relaxing!
Your Place in Paradise Awaits!
The housing market was very strong this past season (Jan -April 2015)  The median sales price for homes in Cape Coral FL for Jan 15 to Apr 15 was $161,950. This represents an increase of 3.8%, or $5,950, compared to the prior quarter and an increase of 8.7% compared to the prior year. Sales prices have appreciated 67% over the last 5 years in Cape Coral. The average listing price for Cape Coral homes for sale on Trulia was $287,481 for the week ending Apr 15, which represents an increase of 2.9%, or $7,992, compared to the prior week and an increase of 2.1%, or $5,892, compared to the week ending Mar 25. Average price per square foot for Cape Coral FL was $116, an increase of 8.4% compared to the same period last year.  There are still opportunities for that affordable vacation home or permanent residence in the Cape Coral area!
What's Happening in Cape Coral?
If there is any indication that business is booming in Cape Coral take a ride along the Pine Island Road corridor!  Three years ago when I arrived the area was in early recovery mode from the recession and housing bust.  Today is has been transformed to a bustling commercial corridor with an intermingling of big box as well as small business establishments.  A  barometer of a healthy housing market with tempered growth as well as investment by the local government in infrastructure to include roads as well as central utilities projects. The Southwest Cape Coral central water and sewer system is almost complete and plans are in place to begin the project in the Northeast areas.  With a ten year master plan in place, all of Cape Coral will have a centralized water and sewer utility service in place eliminating the need fro well and septic systems.  The central sewer system will protect the water tables as well as the canal system from leeching any hazardous materials in the eco system. Central treated water systems will insure pure water for all residents and businesses.  With commercial zoning limited in Cape Coral, this 2,400 acre corridor is emerging as the new "main street" for future generations. With utilities in and many successful stores already in place, Pine Island Road continues to attract more and more businesses. Recently a host of new businesses have made Pine Island Road area home!
The newest addition is the grand opening of the new WAWA Fuel and  Store Center at the corner of Pondella and Delprado – opening day was April 24th and a capacity crowd was on hand as the first WAWA Center in SW Florida opened their doors. Based in Philadelphia PA, WAWA is now entering the SW Florida markets.  Signature heroes, a gourmet coffee bar, upscale food service as well as fuel services greeted the crowds.  And as a good neighbor local charities were invited to participate raising funds for the Harry Chapin Food Bank and the Muscular Dystrophy Association of Cape Coral!    Read all about it here_ http://www.cape-coral-daily-breeze.com/page/content.detail/id/543735/Wawa-fans-welcome-new-store.html?nav=5004
Cape Coral Parks and Recreation Guide May -Aug 2015
Click on the link to view the many upcoming activities available in Cape Coral – from Aerobics to Zumba there is something for everyone! Athletic events, classes at the Art Center, boating the yacht club, community golf courses, swimming at the community pool, whatever your interest it's here in Cape Coral!
http://capeparks.us/summer%202015/index.html
May 1, 2015 –   First Friday Downtown Hoedown street party. FREE! Live Music, DJ's, Food, Drinks, Vendors, and FUN! That's right, the street in front of Dixie Roadhouse & Rockade will be blocked off and we party in the street! Bourbon Street Style!  Live bands on the BIG STAGE with DJ John Country outside!
http://www.capecoral.com/content/downtown-hoedown
May 2, 2015 – Cinco de Mayo themed event from 4:00pm – 10:00pm on Saturday, May 2, 2015 brought to you by the Chamber of Commerce of Cape Coral and Iguana Mia Resturant
This is a family friendly event held in the Iguana Mia parking lot on SE 47th Terrace. We will have a kids area, live entertainment on dueling stages, and much more.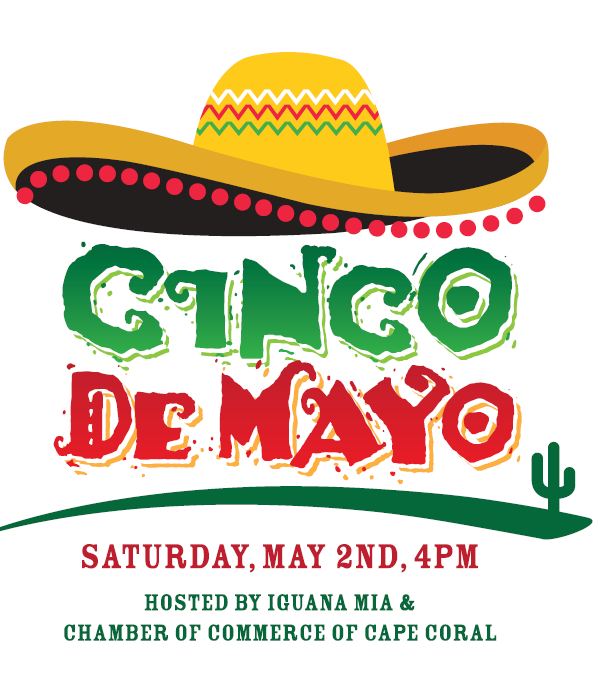 Iguana Mia,  1027 Cape Coral Pkwy. E   Cape Coral, FL 33904
http://web.capecoralchamber.com/events/Cinco-de-Mayo-2587/details
  May 6, 2015  Experience the beauty of Southwest Florida's amazing sunsets at the Cape Coral Yacht Club for the Sunset Celebration on the first Wednesday of every month. Listen to live music on the beach, shop from over 40 vendors selling unique crafts, jewelry and other gift items, or take a stroll on the pier. For vendor information please call (239) 574-0806
http://www.capecoral.net/calendar_parks/calendar_app/calendar_event_detail.html#1368#5/6/2015
 May 9, 2015
–
6th annual Cape Coral Triathlon! This is now a USAT sanctioned event and we are proud to partner with title sponsor Lee Memorial Health System. Each participant must have a valid USAT license (annual or one day). The race will feature a .25 mile swim from the Yacht Club Beach. 11 mile bike ride, and 5k run through the historic area of Southeast Cape Coral. Register at
www.active.com
Thank you for visiting our blog.  Our goal continues to provide you with a snapshot of the SW Florida area and lifestyle. We trust you found the information helpful and may spark your desire to visit. Should you need additional information or if you would like to start a property search or even visit  please feel free to
contact us
– there is no obligation and we would be more than happy to help and answer all your questions!   Have a Happy Spring and Happy Mothers Day to all Moms!
March is here a prelude to spring!  Our Northern neighbors are hoping for an early spring especially with the brutal winter storms such as Marcus, Neptune, Octavia and Quantum et all!    My former home in the Boston area received over 100 inches of snow! Our brief local sojourn with winter at the end of February was a far cry (the coldest it was overnight was 34 degrees) from the sub zero temperatures that engulfed our friends to the North along with the ice and snow!   Suffice it to say that this part of SW Florida saw an immense uptake in visitors and travelers to escape the clutches of winter!  Last week I had to take a brief ride to Fort Myers International Airport and there were lines everywhere from incoming travelers at the taxi stand, at the car rental agencies, at the  information kiosk. It seemed everyone was still coming to SW Florida!
The coming of Spring in the Cape area means many more activities both indoor and outdoor.  Kayak rentals at the Four Mile Eco Preserve are doing a brisk business.  The weather is perfect for a daylight kayak trip through the mangroves. If kayaking is not your thing, take  advantage of the boardwalk walking trail throughout the preserve.   The Kayak Shack is open on weekends through May from 8AM to 4PM for your rental needs.  Here is the website with more information: http://www.capecoral.net/department/parks_and_recreationhome/rotary_park_environmental_center/kayak_rentals_at_eco_park.php
If kayaking is not your thing, take  advantag
e of the boardwalk walking trail throughout the preserve.  Four Mile Cove Ecological Preserve is the second largest preserved green space in Cape Cora.  Located just north off Veteran's Parkway, Four Mile Cove / "Eco Park" is a brackish water wetland area that features a walking trail, visitor center and Veterans Memorial Area.   Visitors of any age can walk through the preserve on the boardwalk. Possible wildlife sightings include eagles, ibis, herons, other wading & migratory birds, raccoons, snakes, and other species.  Don't forget to bring your camera!  For more information about the preserve click HERE
Veterans Memorial Park  is located on the south side of the park, which includes several memorials that recognize and honor those U.S. military service men and women who have served our country. One of the statues is the Iwo Jima Memorial visible from Veteran's Memorial Bridge crossing the Caloosahatchee River rom Fort Myers.  The Marine Corps League maintains the statue.
Thank you to all of our veterans and current service members who are serving our great nation and keeping us free.
You can also feel the coming of spring as a sense of community takes hold in the city.  Art festivals, cultural events, theater, the Farmer's Markets  off Cape Coral Parkway and the Surfside area, kayaking in the preserve.  Restaurants like Iguana Mia, Ford's Garage, Brew Babies  and Pincher's Crab shack are brimming with patrons.  It's March spring is around the corner and we are  blessed with terrific weather.  It's great to be in Cape Coral!rom Fort Myers.  The Marine Corps League maintains the statue.
Come and Experience Cape Coral – There is Something for Everyone!
Cape Coral Real Estate continues to provide a stable investment for your housing dollar!
| No. Bedrooms | Nov – Feb '15 | y-o-y | 3 months prior | 1 year prior | 5 years prior |
| --- | --- | --- | --- | --- | --- |
| 1 bedroom | $105,000 | +98.1% | $70,000 | $53,000 | $69,900 |
| 2 bedrooms | $120,000 | +17.6% | $124,000 | $102,000 | $89,000 |
| 3 bedrooms | $156,500 | +2.0% | $155,000 | $153,400 | $98,600 |
| 4 bedrooms | $208,750 | +0.1% | $212,500 | $208,500 | $139,250 |
| All properties | $155,000 | +5.1% | $154,000 | $147,500 | $99,900 |
The median sales price for homes in Cape Coral FL for Nov 14 to Feb 15 was $155,000. This represents an increase of 0.6%, or $1,000, compared to the prior quarter and an increase of 5.1% compared to the prior year.
Sales prices have appreciated 55.2% over the last 5 years in Cape Coral. The average listing price for Cape Coral homes for sale on Trulia was $353,446 for the week ending Feb 18, which represents an increase of 1.6%, or $5,706, compared to the prior week and an increase of 4.9%, or $16,510, compared to the week ending Jan 28.
Average price per square foot for Cape Coral FL was $111, an increase of 6.7% compared to the same period last year. Popular neighborhoods in Cape Coral include Pelican, Caloosahatchee, Hancock, Burnt Store, Mariner, and Trafalgar.
The 11th Annual Cape Coral Irish Festival will take place this weekend February 28- March 1 at Sun Splash Water Park.  Hosted by the Cape Coral Irish American Club, the event will take place Saturday from 11 a.m. to 10 p.m. and Sunday from 11 a.m. to 8 p.m. at Sun Splash Family Waterpark. The festival will feature live performances by several groups, vendors selling crafts and wares, and authentic Irish food and drink. –
Click HERE for more information!
March 1- Symphony at Sunset/Taste of the Cape- The Gulf Coast Symphony, Southwest Florida's premier community orchestra, presents its much anticipated free outdoor Symphony at Sunset at Four Freedoms Park in Cape Coral. The performance is free and open to the public. No tickets or advanced reservations are required.
Click HERE for more information
March 6- Downtown Hoedown & Street Party- Cape Coral's popular night spot Dixie Roadhouse hosts a unique event on the first Friday of each month that literally closes the street. Enjoy live music, dance lessons and much more. This month, a special free performance by country music legend David Allan Coe with opening performers Black Oak Arkansas.
Click HERE for more information.
March 7- Touch-A-Truck- This is a family friendly event where kids of all ages can explore and ask questions about their favorite vehicles such as Cape Coral Police Mobile Command Unit, Lee County Emergency Medical Ambulance, and the Veterans Mobile Museum just to name a few. Click HERE for more information.
March 8- Gardenfest- This is a must do event for those who enjoy authentic German food and entertainment. Plenty of schnitzel, brats, potato pancakes, chicken, pretzels, beer and wine is on tap for this annual event. There will also be authentic live German music on the stages throughout the event.   Sponsored by the German American Club of Cape Coral.  Click HERE for more information.
The Sounds of Jazz & Blues, will held on Saturday March 21, 2015,  on the river at the beautiful Westin Cape Coral at Marina Village (Tarpon Point), is being presented by the Cape Coral Parks & Recreation Department with the support of many community sponsors. This event brings a great night of jazz and soul-stomping blues to Cape Coral. Join us for a fabulous night filled with jazz and blues sounds, sumptuous food, beverages and what is sure to be an evening to remember! Festival seating chairs and blankets are welcome.
Click HERE for more information
March 21 & 22- Gathering of Giants- Cape Coral R/Seahawks present the 20th Annual Gathering of the Giants at Seahawk Air Park, featuring Jets, Warbirds, Stunt Planes, and more! This two day event attracts thousands who come out and marvel at the aerobatic stunts from the radio controlled airplanes.
We hope you have enjoyed our March issue.  Thank you for visiting.  If you are looking for your piece of paradise in SW Florida or if you have any questions about "Life on the Cape"  call or drop us an email.   Visit our contact page – http://aquadreamteam.com/?page_id=26
See you in April
Happy New Year!
Glorious New Years Day in Cape Coral!  Temperature is in the low to mid 80's with cool down in the mid to high 60's forecasted for tonight.  It just doesn't get any better this side of paradise!  Hope you all had a great holiday celebration and best wishes for a happy, prosperous and healthy New Year!   While driving back to the Cape from our holiday travels to Kansas and Texas we could definitely see a pick up in traffic with out of state plates on cars and RVs all heading South!  A recent article in a national paper states that many of our Northern friends are seeking a warmer life experience due to the bitter cold temperatures that have taken hold in the past few weeks.  Of course one of the major "go to" places continues to be Florida!  The long term forecast for the Florida winter continues to stay firm with a warmer than usual winter and mild temperature fluctuations.  So if you need a winter break come on down plenty of sun to go around!
Is an Over 55 Active Adult Community Right for You?
One of the many housing options available in the area are the Over 55 Active Adult Retirement Communities.  With over 10,000 baby boomers approaching retirement age each day, these communities have become very popular offering many benefits such as security ( most are gated communities), active social life, access to medical care, property maintenance and upkeep, transportation services and being in an environment where everyone is "just like me".  Of course there are also cons – many communities have strict regulations and the lack of diversity of typical residential communities.  There is no right or wrong answer it just depends on your particular wants or needs regarding where one would like to live.  There are number of these communities in the Cape Coral and Fort Myers area.  The following link can help you determine if this is right for you. 
http://www.fool.com/retirement/general/2015/01/04/retirement-villages-pros-and-cons.aspx
And attached is a listing of these communities in the Cape Coral/Fort Myers area:
http://www.55places.com/florida/area/fort-myers-cape-coral
If you are interested in an Over 55 Active Adult Community please call or email us at the following link:  Contact Page
 Hop On A Trolley!
Looks like the trolley events have taken off in Cape Coral!
Since beginning just a couple of years ago, the trolley events held in the South Cape have attracted thousands of people to the city's entertainment district.  A typical trolley event has a fleet of trolleys roaming through the South Cape taking riders from one nightspot to the next. Such events as the New Year's Eve Trolley Run, the Best South Cape Martini Competition, and others have become a staple in the city's event calendar attracting more and more people with time around.
"The trolley events have been far more successful than we could have imagined," says Dixie Roadhouse Managing Partner Lynn Pippenger. "They have been a major factor in creating the South Cape as an entertainment destination in Southwest Florida."  Due to the immense success of the events, the South Cape Hospitality and Entertainment Association (SCHEA), an organization made up of South Cape bar and restaurant owners, are looking to make the trolleys a more permanent part of the South Cape nightlife.SCHEA is proposing running a single trolley throughout the South Cape entertainment district every Friday and Saturday evening beginning in February for a four-month trial period
Showcase of Homes 2015
The Cape Coral Construction Industry Association (CCCIA) announced the organization will hold its 18th Annual Showcase of Homes in early 2015.  This year's event theme is, "You only  thought you knew Cape Coral…Come See Us Now!"
The Showcase will highlight an estimated 20 decorated models by some of Southwest Florida's most prestigious and established builders. A variety of styles and price points will be showcased to entice everyone looking for a new home or just wanting to browse and dream.  Models will be open to the public on Jan. 23 – 25, Jan. 30 – Feb. 1, and Feb 6 – Feb 9. Hours the models will be open for tour is Fridays and Saturdays from 10:00am to 5:00pm and on Sundays from 12:00pm to 5:00pm. Visitors are encouraged to visit each home to see for themselves what the Cape truly has to offer. 
Housing Marker Summary – Cape Coral FL
The market continues to show a healthy growth.  Inventory is still very low and demand is increasing thereby affecting median prices as well as price per square foot both which have increased compared to last year. Multiple offers are again becoming the trend in the housing market.  There are still investment opportunities as well as single family properties priced lower than other parts of the country especially with waterfront views!
 Average price per square foot for Cape Coral FL was $112, an increase of 8.7% compared to the same period last year.
The median sales price for homes in Cape Coral FL for Oct 14 to Dec 14 was $155,000 based on 1,049 home sales. Compared to the same period one year ago, the median home sales price increased 2.6%, or $4,000, and the number of home sales decreased 5.1%.
There are currently 5,654 resale and new homes in Cape Coral on Trulia, including 21 open houses, as well as 1,913 homes in the pre-foreclosure, auction, or bank-owned stages of the foreclosure process.
The average listing price for homes for sale in Cape Coral FL was $335,867 for the week ending Dec 31, which represents an increase of 0.4%, or $1,292, compared to the prior week. Popular neighborhoods in Cape Coral include Pelican and Caloosahatchee, with average listing prices of $447,269 and $361,866.
Don't Miss These January Events In Cape Coral!
An upcoming event in January is the Cape Coral Festival of the Arts beginning on January 10th thru the 12th.  In its 30th year, this two day festival typically draws over 100,000 people to the South Cape.  Each year the festival hosts over 300 artists and craftspeople from around the country.  The event will be located on Cape Coral Parkway from Cape Coral Street to Vincennes Blvd.  Merchants will also be taking part in the activities with sidewalk sales and special offerings during the Festival.  There will also be plenty of food, activities for the kids, and fun for people of all ages.
 For more information and guide:  http://www.capecoral.com/cape-coral-festival-of-the-arts-2015-guide
Sunset Celebrations Continue in 2015
Wed, 01/07/2015 –

4:00pm

to

7:00pm
Enjoy Southwest Florida's fabulous sunsets on the first Wednesday of every month. The celebration includes live music, and over 50 vendors selling arts and crafts, jewelry, gift items, and much more! Free Admission
Saint Andrew Catholic School
Largest 4-day Festival in Cape Coral: Midway Rides, Carnival Games, Festival Food, Silent Auction, $10,000 Raffle, Live Bands, and Community Entertainment.
January 15-18- St. Andrew Festival- This four day event has become a Cape Coral tradition. In its 23rd year, the St. Andrews Festival includes over 30 midway rides, carnival games, festival food, silent auction, live bands and a $10,000 raffle. Last year the festival added the "Miss Cape Coral" Pageant and promises to have more exciting features at this year's festival.
January 17 & 18- Tour de Cape- For over 20 years, the Tour-de-Cape has brought out cycling enthusiasts to race around the city of Cape Coral. With tracks starting at 15 miles and going to 100 miles, there is something for everyone at this event. For those who prefer running to cycling, the event also hosts a 5K family run.
January 31- Best South Cape Martini Competition- Guests at the Best South Cape Martini Competition will leisurely travel around the South Cape entertainment district on a special fleet of trolleys – stopping at the participating establishments to relax with their custom cocktails and appetizer. At the end of the evening everyone votes on their favorite drink in three different categories.
We hope you had a beautiful and happy holiday season!   We wish you  a healthy and prosperous 2015 !  We will continue to bring you the best of Southwest Florida Living and continue to show you why being on the Cape is the Place to Be!  Best wishes fore the New Year and see you in February. 
It's October!
– the last wisp of the summer wind is gone and Fall is here.  Five good things about Fall in Southwest Florida:
Your pool is still up and running and the warm days and nights continue.
You haven't had to put away your "summer clothes" in fact you never have to put them away!
Your hibiscus plants and bougainvillea bushes continue to bloom
No Falling Leaves – at least not many of them!
No scrambling to rake leaves and do the Fall cleanup!
Yes its Fall in the Cape and Fort Myers area.  Great time to spend a day at the beach.  The weather is a bit cooler and the "snow bird" crowds have not arrived yet so its perfect to spend some time at your favorite beach.  From Naples to Venice there are something like 20 plus  beaches you can choose from.   Aside from lounging and swimming in the surf of the Gulf of Mexico you will also find terrific beach front eateries catering to your palate along with live entertainment.
Yes living in Southwest Florida is a Beach like the beach pictured on the right –  Marco Island Beach on the Gulf of Mexico
 Spotlight on Downtown Fort Myers

Across the Caloo (Caloosahatchee River) from Cape Coral sits the city of Fort Myers.  You may say that Fort Myers is a "Tale of Two Cities"!  There is the quaint downtown Fort Myers still with brick paved streets, quaint shops, restaurants and nightlife and then the commercial Fort Myers dotted with shopping areas and other commercial ventures.   Downtown Fort Myers is going back to the city's roots.
It started out as a fort ( hence Fort Myers) built along the river in 1841 and abandoned after 1865.  By 1885 the population was close to 400 and Thomas Edison visited the area, fell in love with the place and built his home and laboratory along the Caloosahatchee River. Henry Ford and Harvey Firestone also joined Edison in building their winter retreats in Fort Myers.   The coming of the railroad in the 1920's  ushered in the "Boom Time" for Fort Myers.  Most of the Mediterranean Revival buildings seen throughout the City were built during this period. In fact, the Mediterranean Revival style, which combines several other prominent architectural styles, typifies Florida during the 1920's. Excellent examples of Mediterranean Revival construction are to be found in commercial buildings in the downtown area as well as in private homes in all parts of the city.   Growth radiating out in all directions from the old fort grounds was to be seen during the 1920's. Still-prominent developments such as Seminole Park, Riverside Park, Edison Park, Valencia Terrace, Allen Park, Alabama Groves and others had their beginnings in the Boom Time.
The Boom Time ended with the coming of the Great Depression in the 1930's.  And it was the 1940's and World War II that revitalized the area.  Every county in Florida had air bases to take advantage of Florida's fine flying weather. Lee County's bases brought servicemen, and sometimes their families to Ft. Myers. Many of these people, and their visitors, came back in later years to become permanent residents.
Post World War II saw an influx of people coming to Florida.  Fort Myers along with Lee County has grown into a city of  approximately 70,000 residents.   Development has been concentrated east and west along the river, and south along Cleveland Avenue. New commercial buildings and shopping centers have cropped up in all parts of the city. Fortunately, the older downtown area, and much of the city's historic districts, have retained much of their old charm.  Today Downtown Ft. Myers is filled with businesses ranging from boutiques, restaurants, cafes, antiques stores, jewelers, financial houses, apartments, and professional offices to a convention center.
Things to Do in Fort Myers
It is held the first Friday of every month from 6 to 10 p.m.  The  Art Walk features local and national artwork in the downtown art galleries and several art stops in the Fort Myers River District. The evening culminates with an after party at 10 p.m.
http://www.downtownfortmyers.com/Art_Walk/
The  Fort Myers River District comes alive every month with live music on 3rd Friday in the downtown area.  There are over a dozen venues with local as well as regional performers.  From jazz to blues to rock and much more!
http://www.downtownfortmyers.com/Music_Walk/
Shopping, dining, entertainment, music, relaxation – downtown Fort Myers offers all this and more.  For photography enthusiasts there is a host of subject matter for your lens.  For boaters and anglers, the marina area offers everything you need.  For those that just want to stroll and relax along the river, no problem there are a host of parks with walking area along the Caloosahatchee for your use.  Perhaps you may want to take boat ride down the river and see the sites or take in the dolphins and manatees.   You can do that too.  In fact thee is not much you can't do in downtown Fort Myers.  For a complete guide click on the following link: http://www.downtownfortmyers.com/
 Fort Myers Sights & Sounds!
Beer Here! Craft Beer Fest coming to Fort Myers October 4th –
Beer Aficionados Mark your calendars!

The Marina at Edison Ford will host  the inaugural Fort Myers Craft Beer Fest on Saturday, October 4th on site at the River District.
Thisfestival will feature more than 75 craft beers from around the world and live musical performances. Kick off will begin at 12:00 p.m.
For more information:
http://www.prlog.org/12371974-the-marina-at-edison-ford-to-host-inaugural-fort-myers-craft-beer-fest-oct-4.html
  Arrrgghhh…..Let's Find Us Some Treasure at the Pirate's Fest!
Drive out of the Fort Myers Downtown are on McGregor Boulevard and follow this palm lined road along the river south and you will end up at Fort Myers Beach via San Carlos Boulevard.  And if you happen to be there the weekend of October 10-12 you will be in Pirate Heaven.  Yes it's the 9th Annual Fort Myers Beach Pirate Fest!   Aye tis a gathering of pirates, wenches and the like at this historic festival.  General Admission is free.  There be all kinds of grub, entertainment, sea battles  and of course pirates and wenches galore!  The festival will run the entire weekend.  Get there early and have your picture taken with a pirate or wench and don't miss the Pirate's Ball on Saturday evening!
For more information and schedule of events go to:  http://www.fortmyersbeach.org/piratefest/
Fort Myers Beach…….It's Waiting For You………
Thank you for visiting our little piece of paradise!  See you in November!  If you are interested in visiting the SW Florida area or have decided its time to have your own piece of paradise weather seasonal or full time give us a call or email us we will be glad to help!
September is Here on the Cape……
Yes, September is here …..hard to believe seems summer started just a week ago!  Labor Day Weekend marks the "official end of summer'!  Summer fades time for one last barbeque maybe, an escape to the beach for one last summer fling, maybe just relaxing in the backyard with friends.  However you plan to spend it have a  Happy and Safe Labor Day Weekend.  And of course with September school is back in session although here in Cape Coral school started on August 18th.  And of course our Northern and Midwest friends will feel a crisp breeze in the air, a change of color in the leaves and the beginning of falling leaves leading into Fall.  In the Cape, September brings its own changes though the weather will continue to be pleasant and many will flock to the beaches as well as take on hiking in the preserves as well as kayaking and boating.  There still will be some warm days however, some cool nights will begin to make their presence.  Last evening I heard the "hooting" of a horned owl a sure sign that the season is changing.  Last year we had a family of horned owls nest in a large pine tree next door.  Perhaps we'll see them again this year and soon our American Eagle couple should return to their besting site down the street.
What's Going on With Real Estate in Cape Coral?
One word – GROWING – another review from MoveTo.com shows the Cape Coral Market continuing  to grow!
Inventory for Single Family Homes continues to be at a low level with median prices continuing to rise from last year.  Price per square foot is also increasing based on the increase of median price increases.  Two things will challenge new buyers in the future – increasing interest rates – the Federal Reserve will probably increase the discount rate in October and will also probably ease of their Quantitative Easing Program.  This will definitely impact current interest rates.  Low inventories – with less units available the shift is to the sellers market versus the buyers market.  Homes in some cases are already becoming part of a bidding war between competitive buyers.  Now may be a good time to consider that new primary residence in SW Florida or even a second home to get away from those harsh upcoming winters!  A recent article from Trulia has called Cape Coral A real Estate Anomaly!  A few years ago the area was plagued with distressed properties from foreclosures and in some cases just abandonment due to the housing bubble bust.  Propety levels went to all time lows and sellers couldn't even give property away.  All that has changed from Bust to Recovery.  And, it looks like it is sustainable slow growth without huge peaks.  That will protect current buyers getting into the market.  We don't need another housing frenzy that will feed the market with inflated non-sustainable prices!  Here is a link to the article: http://activerain.trulia.com/blogsview/4458961/cape-coral–a-real-estate-anomaly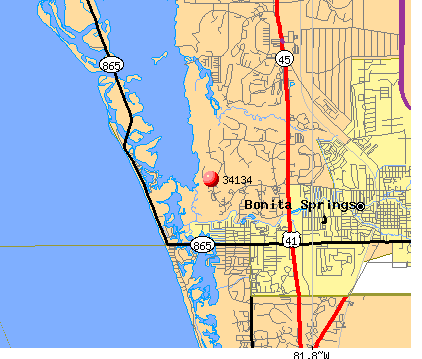 Spotlight on Bonita Springs!
One of the areas that Aqua Property Group, Inc. represents is the city of Bonita Springs.  Bonita Springs is a city in Lee County, Florida. The population was 43,914 at the 2010 census.   It is part of the Cape Coral–Fort Myers Metropolitan Area. The city is a coastal city on the Gulf of Mexico.  The city motto is "Small Town Charm, Big Bright Future!" 
The city is located on both Estero Bay and the Gulf of Mexico. The area referred to as Bonita Beach is located on a road-accessible barrier island (Little Hickory Island) that lies between the Gulf of Mexico and Estero Bay. The Imperial River flows through the downtown district of the city and empties out into Estero Bay.
The city is the northernmost city on the west coast of Florida that has a tropical climate, having a mean January temperature of 65 °F (18 °C).
While existing primarily as a retirement and second home vacation community, Bonita Springs is home to a growing number of businesses due to low business taxes, an abundance of inexpensive commercial office space, and a growing community of educated professionals. Whether you are looking to explore nature, relax on the beach, or take a boat out on its clear waters, Bonita Springs is an unforgettable destination with a little something for everyone. Enjoy the wildlife and views of Barefoot Beach Preserve or rent a boat to take out on the water.  Bonita Springs Public Beach is a great place to go swimming or relax and unwind, and you can even bring Fido to the town's very own Dog Beach.
Bonita Springs is part of the Lee County School District. and provides higher education opportunities at Florida Gulf Coast University in Fort Myers and Florida SouthWestern State College in Naples/Fort Myers.
Transportation:
Airports
Major highways
Points of interest
Art League of Bonita Springs – an arts organization that hosts both local and traveling art exhibitions, arts classes and other community events.  Click on to Website
Bonita Beach Park – a 2.5-acre (10,000 m

2

) beachfront park that features a boardwalk and swimming area. Sand dunes and coastal vegetation surround a gazebo and 8 picnic shelters. Click on to Website
Bonita Nature Place – Bonita Nature Place (BNP) provides a local place for learning experiences, volunteerism, and outdoor family activities that strengthens the environmental stewardship commitment within the community while fostering an awareness of old Southwest Florida in its unique, natural setting. Click on to Website
Barefoot Beach Preserve Park – is 342 acres (1.38 km

2

) of natural land and one of the last undeveloped barrier islands on Florida's southwest coast.  Click on Website
There are also 10 beach accesses with public parking located up and down Bonita Beach.
If interested in visiting Bonita Springs, click on Trip Advisor here 
If interested in finding a new home in this part of paradise give us a call or email us!
Housing and Lifestyles What's New?
This months topics:
Florida The Tax Friendly State -Take a look at your state and see how it compares to Florida one of the Tax Friendly States! No stat income tax leads the way! Great to consider if you are thinking about a move and if you are a retiree, Florida does not tax your pension or Social Security benefit!   Click here: http://www.kiplinger.com/tool/taxes/T055-S001-kiplinger-tax-map/#cZuLQqfXggohC3Me.01
Test Your Home Knowledge Fun Quiz – Test Your Knowledge – How long should things last in your home? May help you look at what needs replacement or maintenance.  http://www.kiplinger.com/quiz/real-estate/T029-S001-how-long-should-it-last/index.html
Home Buying Smarts! – Fun Quiz on Home buying!  Click here:  http://www.kiplinger.com/quiz/real-estate/T010-S001-how-smart-a-home-buyer-are-you/index.html

What's Happening in the Cape Coral Real Estate Market and why is it an Anomaly? Read how is going from bust to recovery! Click here: http://activerain.trulia.com/blogsview/4458961/cape-coral–a-real-estate-anomaly
Thank you for visiting our little piece of paradise!  See you in October!  If you are interested in visiting the SW Florida area or have decided its time to have your own piece of paradise weather seasonal or full time give us a call or email us we will be glad to help! Have a safe and enjoyable Labor Day Weekend!