September is Here on the Cape……
Yes, September is here …..hard to believe seems summer started just a week ago!  Labor Day Weekend marks the "official end of summer'!  Summer fades time for one last barbeque maybe, an escape to the beach for one last summer fling, maybe just relaxing in the backyard with friends.  However you plan to spend it have a  Happy and Safe Labor Day Weekend.  And of course with September school is back in session although here in Cape Coral school started on August 18th.  And of course our Northern and Midwest friends will feel a crisp breeze in the air, a change of color in the leaves and the beginning of falling leaves leading into Fall.  In the Cape, September brings its own changes though the weather will continue to be pleasant and many will flock to the beaches as well as take on hiking in the preserves as well as kayaking and boating.  There still will be some warm days however, some cool nights will begin to make their presence.  Last evening I heard the "hooting" of a horned owl a sure sign that the season is changing.  Last year we had a family of horned owls nest in a large pine tree next door.  Perhaps we'll see them again this year and soon our American Eagle couple should return to their besting site down the street.
What's Going on With Real Estate in Cape Coral?
One word – GROWING – another review from MoveTo.com shows the Cape Coral Market continuing  to grow!
Inventory for Single Family Homes continues to be at a low level with median prices continuing to rise from last year.  Price per square foot is also increasing based on the increase of median price increases.  Two things will challenge new buyers in the future – increasing interest rates – the Federal Reserve will probably increase the discount rate in October and will also probably ease of their Quantitative Easing Program.  This will definitely impact current interest rates.  Low inventories – with less units available the shift is to the sellers market versus the buyers market.  Homes in some cases are already becoming part of a bidding war between competitive buyers.  Now may be a good time to consider that new primary residence in SW Florida or even a second home to get away from those harsh upcoming winters!  A recent article from Trulia has called Cape Coral A real Estate Anomaly!  A few years ago the area was plagued with distressed properties from foreclosures and in some cases just abandonment due to the housing bubble bust.  Propety levels went to all time lows and sellers couldn't even give property away.  All that has changed from Bust to Recovery.  And, it looks like it is sustainable slow growth without huge peaks.  That will protect current buyers getting into the market.  We don't need another housing frenzy that will feed the market with inflated non-sustainable prices!  Here is a link to the article: http://activerain.trulia.com/blogsview/4458961/cape-coral–a-real-estate-anomaly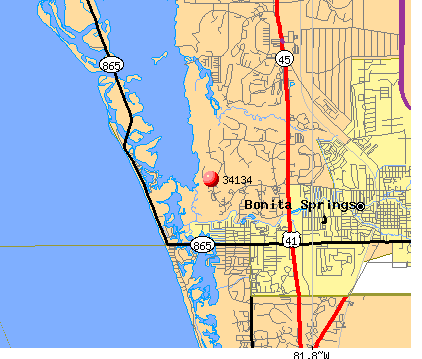 Spotlight on Bonita Springs!
One of the areas that Aqua Property Group, Inc. represents is the city of Bonita Springs.  Bonita Springs is a city in Lee County, Florida. The population was 43,914 at the 2010 census.   It is part of the Cape Coral–Fort Myers Metropolitan Area. The city is a coastal city on the Gulf of Mexico.  The city motto is "Small Town Charm, Big Bright Future!" 
The city is located on both Estero Bay and the Gulf of Mexico. The area referred to as Bonita Beach is located on a road-accessible barrier island (Little Hickory Island) that lies between the Gulf of Mexico and Estero Bay. The Imperial River flows through the downtown district of the city and empties out into Estero Bay.
The city is the northernmost city on the west coast of Florida that has a tropical climate, having a mean January temperature of 65 °F (18 °C).
While existing primarily as a retirement and second home vacation community, Bonita Springs is home to a growing number of businesses due to low business taxes, an abundance of inexpensive commercial office space, and a growing community of educated professionals. Whether you are looking to explore nature, relax on the beach, or take a boat out on its clear waters, Bonita Springs is an unforgettable destination with a little something for everyone. Enjoy the wildlife and views of Barefoot Beach Preserve or rent a boat to take out on the water.  Bonita Springs Public Beach is a great place to go swimming or relax and unwind, and you can even bring Fido to the town's very own Dog Beach.
Bonita Springs is part of the Lee County School District. and provides higher education opportunities at Florida Gulf Coast University in Fort Myers and Florida SouthWestern State College in Naples/Fort Myers.
Transportation:
Airports
Major highways
Points of interest
Art League of Bonita Springs – an arts organization that hosts both local and traveling art exhibitions, arts classes and other community events.  Click on to Website
Bonita Beach Park – a 2.5-acre (10,000 m

2

) beachfront park that features a boardwalk and swimming area. Sand dunes and coastal vegetation surround a gazebo and 8 picnic shelters. Click on to Website
Bonita Nature Place – Bonita Nature Place (BNP) provides a local place for learning experiences, volunteerism, and outdoor family activities that strengthens the environmental stewardship commitment within the community while fostering an awareness of old Southwest Florida in its unique, natural setting. Click on to Website
Barefoot Beach Preserve Park – is 342 acres (1.38 km

2

) of natural land and one of the last undeveloped barrier islands on Florida's southwest coast.  Click on Website
There are also 10 beach accesses with public parking located up and down Bonita Beach.
If interested in visiting Bonita Springs, click on Trip Advisor here 
If interested in finding a new home in this part of paradise give us a call or email us!
Housing and Lifestyles What's New?
This months topics:
Florida The Tax Friendly State -Take a look at your state and see how it compares to Florida one of the Tax Friendly States! No stat income tax leads the way! Great to consider if you are thinking about a move and if you are a retiree, Florida does not tax your pension or Social Security benefit!   Click here: http://www.kiplinger.com/tool/taxes/T055-S001-kiplinger-tax-map/#cZuLQqfXggohC3Me.01
Test Your Home Knowledge Fun Quiz – Test Your Knowledge – How long should things last in your home? May help you look at what needs replacement or maintenance.  http://www.kiplinger.com/quiz/real-estate/T029-S001-how-long-should-it-last/index.html
Home Buying Smarts! – Fun Quiz on Home buying!  Click here:  http://www.kiplinger.com/quiz/real-estate/T010-S001-how-smart-a-home-buyer-are-you/index.html

What's Happening in the Cape Coral Real Estate Market and why is it an Anomaly? Read how is going from bust to recovery! Click here: http://activerain.trulia.com/blogsview/4458961/cape-coral–a-real-estate-anomaly
Thank you for visiting our little piece of paradise!  See you in October!  If you are interested in visiting the SW Florida area or have decided its time to have your own piece of paradise weather seasonal or full time give us a call or email us we will be glad to help! Have a safe and enjoyable Labor Day Weekend!

August On the Cape!
August on the Cape – Traditionally the last month of summer so its beach time, cooling off in the surf or at Sun Splash Fun Park, finding a nice shady spot under a beach umbrella, sitting out on your lanai in the evening and feeling that summer breeze kick in.  Whatever your pleasure you are sure to find it here in Cape Coral and SW Florida.  The beaches are pretty much uncrowded awaiting the influx of the seasonal snow birds in October and November.  Farmers markets have moved to their indoor locations to keep their wares cool.  Restaurants have their summer patio spaces ready for your dining pleasure.  Dinner fare can consists of great seafood caught in the local Gulf waters, some great steaks from Florida Beef it's what's for dinner, or perhaps your taste is more international – if so you can choose from a variety of Japanese, Chinese, Italian, Tex Mex and other international venues throughout the city. And of course nothing beats the American favorite – the Burger!  Plenty of gourmet burger venues throughout the Cape and surrounding area many featuring Black Angus Certified Beef – delicious!  Don't forget the beach areas in Fort Myers – plenty of outdoor restaurants and dining spaces  line the Fort Myers Beach area some even have great nightly entertainment.
School Days Are Here!
And yes August is the start of the school year here in SW Florida.  August 8th will be the first day of school for the 2014-2015 school year.  Please drive carefully and adhere to all stopped school box regulations.  Cape Coral is part of the Lee County School District. The district is the ninth-largest district in Florida and the 40th largest school district in the United States.   For more information on Cape Coral School Systems click on to the this link:  http://www.capecoral.com/school   Summer's not quite over for school bound students.  Cape Coral offers 39 parks, 20 of which have playgrounds suitable for ages 3 to 12, throughout the city, offering ample opportunities for a day of fun. – See more at: http://www.cape-coral-daily-breeze.com/page/content.detail/id/540584/Summer-s-not-quite-over—-.html?nav=5011
Cape Coral Makes the Top 10 with Highest Projected Job Growth
Economic growth continues a positive trend in SW Florida. Naples ranked number 1 with Cape Coral ranked number 6 among the 10 metro areas with the highest projected job growth. Projections for Cape Coral job growth +3.7%, median income $
…
46,016, unemployment rate 5.8%. The other top areas include Port St. Lucie, FL, 5 major areas in Texas (Houston, Dallas, Austin, St. Antonio and McAllen) and one in Colorado (Greely) and NC (Raleigh) .
See more at:  http://www.forbes.com/sites/kurtbadenhausen/2014/07/23/naples-austin-head-list-of-best-cities-for-job-growth/

Cape Coral Housing Market  Summary April-July 2014
Summary – Source  http://www.trulia.com/real_estate/Cape_Coral-Florida/market-trends/ The housing market continues to appreciate with another increase in median sales price for all residential homes types.  And the average price per square foot also continues to increase.  The summary highlights: The median sales price for homes in Cape Coral FL for Apr 14 to Jul 14 was $155,000. This represents an increase of 2.1%, or $3,250, compared to the prior quarter and an increase of 5.1% compared to the prior year. Sales prices have appreciated 64% over the last 5 years in Cape Coral. The average listing price for Cape Coral homes for sale on Trulia was $310,513 for the week ending Jul 23, which represents a decline of 1.2%, or $3,767, compared to the prior week and a decline of 0.4%, or $1,150, compared to the week ending Jul 02. Average price per square foot for Cape Coral FL was $109, an increase of 5.8% compared to the same period last year. Popular neighborhoods in Cape Coral include Pelican, Caloosahatchee, Hancock, Mariner, Burnt Store, and Trafalgar.
Looking to "Test Drive" the Cape Coral Area With a Seasonal Rental?
Just like summer is rolling by in SW Florida – so it is "up North"!  Perhaps you have explored the idea of taking a "Winter Break" this year and heading here to SW Florida for a couple of weeks or longer to "get out of the cold"!  Won't be long when "Old Man Winter" will make his return trip to the Northeast and Midwest.  Why not consider a Cape Coral Test Run" this year.  We have provided a number of links that can help you navigate through the rental market. If your stay is short term say for a week perhaps a stay at one of the Gulf  resorts will work for you.  Links for those areas also provided here on this blog. If you have any questions on the area or need additional information please call us or email us our contact information is: Our Email Address: aquadreamteam@gmail.com Bett Lucarelli – 239-887-0201 John Kapusta – 508-277-7925

Links for Seasonal Rentals:
Vacationhomerentals.com     http://www.vacationhomerentals.com/vacation-rentals/Cape-Coral-Gulf-Coast-South-Florida.htm?utm_source=bing&utm_medium=cpc&utm_campaign=Bing+CPC+Campaign&ef_id=U9JUhQAAAPgYYmhJ:20140801144249:s
Renters.com    http://www.renters.com/listing?q=cape+coral&utm_source=Bing&utm_medium=CPC&utm_term=cape%20coral%20seasonal%20rentals&utm_campaign=USA-Florida-CapeCoralFlorida
VRBO Rentals http://www.vrbo.com/vacation-rentals/usa/florida/south-west/cape-coral
Homeaway.com  http://www.homeaway.com/search/refined/florida/cape-coral/region:963/Pay+Per+Booking:PPB?utm_source=bing&utm_medium=cpc&keyword=Cape%20Coral%20Cabin%20rental&matchtype=b&utm_content=&utm_campaign=%7CNODE%7CUSA%7CFlorida%7CCape%20Coral%7C%7CPPB&k_clickid=6f6c7e8a-8fd6-41bb-84c1-054a53f2e459
Links for Resort Accommodations:
Westin Marina and Resort Cape Coral   http://www.westincapecoral.com/
Dolphin Key Resort Cape Coral  http://www.dolphinkeyresort.com/
Point Estero Beach Resort  http://www.pointeestero.com/?NCK=8556741470
The Sandpiper Gulf Resort  http://sandpipergulfresort.com/
Fort Myers Beach Villas  http://www.fortmyersbeachvillas.com/
Best Western Beach Resort  http://www.bwbeachresort.com/
Additional Fort Myers Beach/Sanibel Island Resorts http://www.fortmyers-sanibel.com/stay/?utm_source=bing&utm_medium=cpc&utm_term=%2Bresorts%20%2Bfort%20%2Bmyers&utm_campaign=MI+Fort+Myers+Sanibel+Lodging
Makin Bacon!
For their next event, the South Cape Hospitality and Entertainment Association is literally going outside the box and into the frying pan. The association is set to host its inaugural "South Cape BaconFest Trolley Run" Saturday, August 23. The event will take place from 6:00pm to 11:00pm, and brings back the popular festival trolleys to take attendees to the 13 participating South Cape bars and restaurants.  At each stop, attendees will enjoy a bacon themed drink or food sample that ranges from appetizers to entrees to desserts.
Check-in for "BaconFest" will begin at 5:00pm at Big John Plaza and Club Square. Participants may park in the public lots and ride the trolleys to the other locations. All participants will need to check-in by 7:00pm to obtain event wristband and passport. Tickets cost $20 per person and can be purchased at any of the participating locations. There are only 1,000 tickets available for the event, and they will be sold on a first come, first serve basis. Attendees of this event must be at least 21 years old.
Participating locations are:
Backstreets Sports Bar- 915 SE 47th Terrace
Chicago Pizza- 1341 SE 47th Terrace
Ciao- 823 SE 47th Terrace
Cruiser's Lounge- 1517 SE 47th Terrace
Dixie Roadhouse- 1023 SE 47th Terrace
Monkey Bar & Steakhouse- 1428 Lafayette Street
Rack'em Billiards- 1011 SE 47th Terrace
Ralph's Place of Cape Coral- 1305 Cape Coral Parkway
Rockade- 1023 SE 47th Terrace
Send It Sweetly- 1309 SE 47th Terrace
The Dek- 4704 SE 15th Avenue
The Island Seafood Restaurant- 1339 Cape Coral Parkway E
Tiki Hut @ Dolphin Key Resort- 1502 Miramar Street
We trust that you have enjoyed this issue of "Livin on the Cape".  Please make sure to visit our Housing and Mortgage News  Click on the Housing and Mortgage News Tab up top for housing and financial information.  This months two featured articles:
Going Solar?  6 Things You Must Know About Going Solar!
5 Tips to Help You Sell Your Home at the Best Price!
Our mission continues to focus on being the good will ambassadors for Cape Coral and the surrounding area of Southwest Florida.  If you are interested in more information or looking for that special place to claim as your new home send us an email by clicking on our email contact information at the top right hand corner of the blog.  Thank you and enjoy!  See you in September
It's May – Cinco de Mayo Festivals, a tribute to Moms on Mother's Day, warmer longer days and it ends with our solemn thanks to those that gave the supreme sacrifice for our freedom,  Memorial Day Weekend.   Summer is just around the corner Livin in the Cape!
May arrives after a mild April!  There is a definite change in the air – started running the AC on a more regular basis since mid April.  The warmer humid weather is just around the corner. Now is a good time to have your local service contractor do a AC Tune Up.  You don't want to be without AC in the middle of summer!  It's akin to having no furnace available in the Northeast in one of the cold winter months!   Pool cover off for good water temperature is already in the low to mid 80's.  Snow birds have definitely gone for the season back to Northern latitudes.  The exodus started just before Easter.  We saw numerous out of state cars, campers and RV vehicles heading North on I75.  So I look at May as the bridging month – summer is not too far away and changes are evident:
Sun Splash Water Park is open again. Located adjacent to Lake Kennedy, it really is the "Coolest Place to Be" for the upcoming season. Click on the link for more information on operating hours and admission prices.
May will be the last month for kayaking in the Four Mile Cove Ecological Preserve.  The Kayak Shack will close for the season on Memorial Day and reopen for weekend and special event holidays November through May. Click on the link for kayak rental information and operating hours.  Don't forget to bring your camera!
The walking trail at the Four Mile Cove Ecological Preserve is open year round.  If you plan on walking the trail through the summer months bring plenty of water to stay well hydrated. Click on the link for trail maps and guides.
The Yacht Club Community Pool has also reopened for the season.  The pool will be open to the public from March through October.  Rates and pool memberships are available follow the link above.  Right next door is the Cape Coral Yacht Club Community Park featuring the beach area, the fishing pier, boat launches, picnic areas and pavilion.  The ballroom is a popular rental spot for weddings, private parties and business meetings. Click here for ballroom rental information.  An enclosed beach pavilion is also available for picnics, BBQ's, birthday parties and other casual events. For beach pavilion rental info, click here.
All of these great programs and amenities are brought  to you by the City of Cape Coral Parks and Recreation Department which emphasizes that "s parks are where lifetime friendships are formed, where the gap between generations is bridged, and where people discover what they have in common. How do you grow a hometown with a sense of community, while conserving green spaces and waterways for generations to come? It Starts in Parks!"  Visit the Parks and Recreation Home Page Here   
Attached is the link for the Summer Season Parks and Recreations Activities.

Hats Off to the City of Cape Coral – the city continues to provide a great quality of life with all of the different programs from sports to theater, to the arts to recreation Cape Coral is a great place to live and enjoy.  Please visit the new City of Cape Coral Website Here and navigate through the various resources available in the city.  If you are considering a move to SW Florida then the Cape Coral area is the place to be!
The Burrowing Owl – Official Bird of Cape Coral
Cape Coral is home to the largest population of the Florida species of the Burrowing Owl in the State of Florida. Birders and photographers come from all over the world to see and photograph them.
The Florida Burrowing Owl (Athene cunicularia floridan) is the most encountered lisited species in the City of Cape Coral with over 2,500 owl burrows. The Florida Burrowing Owl is classified as a "species of special concern" by the Florida Fish and Wildlife Conservation Commission (FFWCC). Burrows, owls, and their eggs are protected from harassment and/or disturbance by State law and by the Federal Migratory Bird Treaty Act.  In 2005, The City of Cape Coral designated the Florida Burrowing Owl the official City Bird. (Resolution 50-05)
The Burrowing Owl is a small, pint-sized bird that lives in open, treeless areas. The Burrowing Owl spends most of its time on the ground, where its sandy brown plumage provides camouflage from potential predators.  One of Florida's smallest owls, this bird averages nine inches in height, with a wingspan of 21 inches. The Burrowing Owl has bright yellow eyes and unusually long legs that provide additional height for a better view to spot predators.  Instead of nesting in the trees, as most birds do, the Burrowing Owl gets its name from living underground in burrows. It digs its own holes or lives in abandoned Gopher Tortoise burrows. Burrowing owls are unique in that they can live in close proximity to humans.
 Nesting season officially began in mid-February and lasts through mid-July, but the owls don't always know that. We have seen very young chicks in two burrows in town as of mid December.
Visit the Housing and Mortgage News Page
Get insights on the housing market, mortgages and other helpful tips!
This Months Topics:
The FHA back to work program: A second chance for homeowners
When Homeownership is Better than Renting!-10 Good Reasons to Own versus Rent

Remodeling that Bathroom? Avoid these 5 mistakes:
See You in June
Happy Mother's Day to all Moms – for all that you do we salute you on your special day!
A salute to all our Veterans and current service members thank you for what you have and done and for what you are doing to guard our freedom.  Words alone cannot compensate the sacrifice you have endured.  Make sure to buy a "poppy" to support our veterans.
We trust that you have enjoyed this issue of "Livin on the Cape".  Our mission continues to focus on being the good will ambassadors for Cape Coral and the surrounding area of Southwest Florida.  If you are interested in more information or looking for that special place to claim as your new home send us an email by clicking on our email contact information at the top right hand corner of the blog.  Thank you and enjoy!

April on the Cape –
April is here, springtime, blooming flowers and plants, winter doldrums are behind us and the beauty of every morning is reflected in the terrific sunsrises and capped with beautiful sunsets. The days are getting longer and nights shorter.  Time to mulch, spread some weed and feed and spruce up the flower beds.  Everyone and everything is in motion a new beginning for a new season.  We celebrate Easter and Passover with friends and family.  And yes April 15th – it's the day we pay our taxes!  It's all about April in this issue of Livin on the Cape!
Mr. & Mrs Eagle down the street are coaching their new fledglings to fly – prettty soon they will leave the nest for good and branch out on their own.  They have been coming back to the same nesting site.  I learned that eagles mate for life and make it a point to return to the same nesting site year after year.  Here in Cape Coral the American Bald Eagle is a protected species and nest sites are monitored throughout the season. Construction of any type is not allowed within a specified distance of nesting sites.
The owl family next door has left after their new hatchling learned to take flight.   For two years now the Great Horned Owl family has returned to the abondoned eagles nest next door to us and each year they have had one hatchling.   It seems that nature is in harmony with all these new beginnings.  And for Cape Coral its a new beginning too – just read that Cape Coral/Fort Myers area is now the 10th largest growth area in the US!
It's Beach Time!!!
Did You Know…..there are over 20 beaches between Venice and Marco Island?
Over twenty beach areas with pure white sand just waiting for you!  Southwest Florida is known for some of the finest beaches in Florida and is an experience not to be missed!  There are miles of beautiful, white sands sprinkled with an array of colorful shells of many varieties that appeal to visitors and residents alike.  The waters dance in colors of blues and greens, while seagulls and pelicans sing the song of paradise.  An almost endless supply of sunshine is available throughout the year which is just one more reason to enjoy Southwest Florida and the many well known beaches it has to offer.  Whether you are looking for a day filled with shelling, sand castles and sunshine, or a day of fishing and relaxation, or even a romantic getaway, the many beaches of Southwest Florida have exactly what you're looking for.  There are beach retreats that are only accessible by boat and islands filled with breathtaking shorelines.  There are parks that are the perfect spot for a day of family fun and there are secluded tropical oasis that awaits leisure barefoot walks, tranquility and memories for a lifetime.  There is something for everyone.  Take a look at the beach guide:  SWF Beaches
Take A Walk on the Wild Side!
 This is the perfect time of year to be visiting the natural preserves in the area.  I had been driving by the preserves on Burnt Store  Road for quite some time and decided it was time to take a hike and walk on the wild side!  I hiked both areas of the Port Charlotte Preserves last week.  It's quite different than taking a hike in the heavily wooded forests of the Northeast.  I did a lot of hiking in the Adirondacks when I resided in Saratoga Springs, NY and it is a totally different expereince.
Unlike the tall pine, maple and oak forests of the Northeast the preserves are a miuxture of Flatwood Pines and Cypress trees mixed in with an abundant variety of palm trees and assorted vegetation such as seagrasses and marsh reeds.  Trails are usually open from dawn to dusk and well marked.  There are guided walks available.  I hiked  the Hidden Hammock  trail a 1.5 mile loop at the Port Charlotte State Park Preserve and later hiked the 1.0 mile looop of Eagle Point Trail at Alligator Creek. There is a nature center at the Alligator Pond area with information on local plant and animal life.  An observation deck surrounds the center and stairways lead to the observation dock at the pond.
And yes I was not disappointed and did manage to see the King of the Pond at Gator Pond.  Alligators can be found  throughout the many ponds, lakes and marshes.  One word of caution alligators are protected.  Do not disturb or feed them.  There is a $500 fine for feeding or approaching alligators and the trail is posted with warnings.
Another great venue for the nature lover – The Audobon Corkscrew Swamp Sanctuary is a 14,000 acre preserve near Naples, FL.  Founded in 1954 it contains the largest virgin Bald Cypress Forest in North America.  A 2.5 mile loop takes you deep into the swamp on an elevated boardwalk  exploring 5 different types of habitats.  .  Bird enthusiast can view different species. I had the opportunity to take some tremendous nature shots with my camera. Allow at least 3 hours for your tour.  There are plenty of viewing areas and rest stops along the trail and you really need to "stop and view"  to get the best out of your expereince.  Blue and grey herrons, wood storks and other bird species abound.  And yes there are alligators in the wet areas plenty of them!
Some tips on hiking in the preserves!  Wear light loose clothing it tends to get warm and a bit humid.  Sunscreen and a hat – even on a cloudy overcast day there is plenty of UV light available.  Water – bring plenty of water to hydrate.  Wear comfortable walking shoes.  Give yourself plenty of time you are here to observe nature it's not a streaming video! Turn off you cell phone and disconnect for a while!
Links to the preserves:
http://www.checflorida.org/Alligator_Creek.html
http://www.charlotteharbortravel.com/do/beaches_nature_and_outdoors/moreinfo.php?ID=2567
http://floridastateparks.org/charlotteharbor/
http://corkscrewsanctuary.org/
Cape Coral/Fort Myers Make the Top 10
Growing By Leaps and Bounds!
The Cape Coral-Fort Myers area is the 10th fastest-growing in the country.  A million people now live in Lee and Collier counties, according to the U.S. Census Bureau.  Lee County is among the fastest growing metropolitan areas in the nation, according to Census Bureau information released Thursday. Top 10 fastest-growing metro areas
Top 10 Growth Areas   in the US
Area
%
1. The Villages, Fla
5.5
2. Odessa, Texas
3.3
3. Midland, Texas
3.3
4. Fargo, N.D.-Minn
3.1
5. Bismarck, N.D.
3.1
6. Casper, Wyo.
2.9
7. Myrtle   Beach-Conway-North Myrtle Beach, S.C.-N.C
2.7
8. Austin-Round Rock, Texas
2.6
9. Daphne-Fairhope-Foley, Ala.
2.6
10. Cape Coral-Fort Myers
2.5
Source US Census Bureau
http://www.news-press.com/viewart/20140327/NEWS0101/140327003/Census-Lee-Collier-population-hits-1-million
 To Your Health!
Healthcare!  Its in the news everyday and a solid healthcare system is prime consideration when looking to relocate especially if one is considering retirement.  Great news for Fort Myers/Cape Coral!  HealthPark Medical Center and Lee Memorial Hospital  has been identified as one of America's 50 Best Hospitals in the United States. As reported by Healthgrades, a leading independent health care rating company. Only 1 percent of hospitals in the nation achieved this level of recognition for their consistent clinical quality based on an unbiased and objective review of clinical outcomes using nine years of data.
See the report:  http://www.healthgrades.com/quality/top-hospitals-2014
http://healthylee.com/blog/lee-memorial-hospital-healthpark-medical-center-named-among-americas-50-best-hospitals-top-1-nationwide/
Whats Happening in April on the Cape!
April 2- Sunset Celebration- Enjoy Southwest Florida's fabulous sunsets on the first Wednesday of every month. The celebration includes live music, and over 50 vendors selling arts and crafts, jewelry, gift items, and much more! Free Admission.
http://www.capecoral.com/content/sunset-celebration-1
April 4 & 5- Cape Coral Cardboard Boat Regatta- From the African Queen to Viking Ships to floating turtles, this one of a kind event has something for everyone floating through the bimini basin at Four Freedoms Park in south Cape Coral. Come enjoy watching boat makers float their cardboard boats through the water and see which ones make it to the finish line.
http://www.capecoral.com/content/cape-coral-cardboard-boat-regatta-2014
April 4- Relay for Life More than just a fundraiser, this event is sure to entertain and surprise all while helping a worthy cause. Since 2002, the Cape Coral Relay for Life brings together teams of people camped around local high school tracks taking turns walking around the track continuously for 18 hours, all in an effort to raise money for a cure. Each year the event has raised over $100,000 to battle cancer.
http://www.capecoral.com/content/cape-coral-relay-life-2014
April 12- Cape Coral Bike Night- The City of Cape Coral's Parks & Recreation hosts one the largest collection of motorcycles, live music, food, games and entertainment in Southwest Florida. With four different events throughout the season, Bike Night has become one of Cape Coral's most anticipated events. This year Bike Night includes; two stages of live music, dunk tank, and Dixie Roadhouse Bull Riding Contest.
TBA- Italian-American Festival- Hosted by the Cape Coral Italian American Club, this event offers a unique blend of Italian food, entertainment, and fun. Hosted both inside the club's hall and Big John's parking lot, the festival offers something for everyone.
TBA- Kiwanis Kids Fishing Derby- The Cape Coral Kiwanis Club have hosted this event for 25 years. Kids enjoy a morning of fishing on the Yacht Club Pier. There are trophies for winners in different categories. Fishing pros are on hand to teach children the tricks of successful fishing. Such prizes as free rods and reels are given free throughout the day.
Visit the Housing and Mortgage News Page
Get insights on the housing market, mortgages and other helpful tips!
This Months Topics:
The New Qualified Mortgage Rules – What are they
Spruce Up Your Curb Appeal – Dress up your front yard with inexpensive flower blooms
More Than Just the Down Payment – What other funds orsource of funds do you need?
It's Tax Time – Homeowner Deductions
Credit Scores and Financing – My FICA Score is Not the Greatest!
See You in May!
We trust that you have enjoyed this issue of "Livin on the Cape".  Our mission continues to focus on being the good will ambassadors for Cape Coral and the surrounding area of Southwest Florida.  If you are interested in more information or looking for that special place to claim as your new home send us an email by clicking on our email contact information at the top right hand corner of the blog.  Thank you and Happy Spring!
It's August and beach weather is in order.  It's time for soaking up some summer sun,  sipping a cool drink, perhaps a dip in the warm waters of the Gulf, maybe some shell hunting on Sanibel.  Whatever you choose to do you are in the right place.  Southwest Florida has some of the best beaches in the world.  Just recently, Bowman's Beach on Sanibel Island was chosen as one of the Top Ten beaches in the world by US Travel.  Fort Myers Beach has miles of beach access on the blue green waters of the Gulf of Mexico.  Cape Coral has beach access at the Cape Coral Yacht Club Beach on the Caloosahatchie River.  Whatever venue you are looking for it's hard not to find it.  After all you are in paradise!  Have a great summer!

LIVE!! From the Beach…take a look at what's happening  click on the
Looking to find one of Florida's Best Kept Secrets?     Discover Pine Island!
Pine Island at 17 miles long and 2 miles wide is the largest island  on the west coast of Florida.  It is located abput 15-20 minutes from Cape Coral, 30 minutes from Ft. Myers and one hour from Southwest Florida International Airport (RSW). The Intracoastal Waterway passes through Pine Island Sound, to the west of the island. Matlacha Pass runs between Pine Island and the mainland. Pine Island lies west of Cape Coral.
Unlike the sandy barrier islands of Sanibel to the south, Captiva to the southwest, and
North Captiva to the west, Pine Island has no large beaches and is made from the same coral rock as the mainland.  Pine island is surrounded by mangroves and includes three aquatic preserves. Residents and visitors are attracted to Pine Island's natural rural character, fishing, and boating. Pine Island is mostly zoned as agricultural land; some visitors travel more than a hundred miles to purchase tropical fruit such as lychee and mangos grown and sold on Pine Island.
Pine Island is home to four unincorporated towns: Pine Island Center, St. James City, Bokeelia, and Pineland. Matlacha also is considered one of the communities, but is on its own small island. Pine Island has a small town atmosphere, with few traffic lights and mostly agricultural zoning. Each community has its own largely-volunteer fire station, marinas, shops, and fine casual restaurants. According to the 2000 census, the population of Pine Island is about 9000, however, the population varies seasonally, Pine Island being a winter home for many of its residents.
For the  Naturalist, Pine Island is home to Matlacha Pass National Wildlife Refuge .  Little Pine Island is a state-owned wildlife refuge, currently being restored to its natural state by the elimination of the development features that had been built on the island. Ospreys, herons, egrets, ibises, and roseate spoonbills often are seen on the island, as well as owls, hawks, bald eagles, and many songbirds.  In addition there are numerous preserves throughout the island.  managed by the Calusa Land Trust, whose mission is to protect the natural diversity and beauty of the Pine Island region by acquiring, managing and preserving in perpetuity environmentally sensitive or historically important land and to foster appreciation for and understanding of the environment and our past. Visit the Calusa Land Trust and Nature Preserve of Pine Island for more information and location of the different preserves throughout the island.
If interested in purchasing a home on Pine Island contact us.
Pine Island – Country Waterfront Living

Sanibel and Captiva Island – The Shell Islands!
LIVE!! From Sanibel Island …take a look at what's happening  click on the  Sanibel Island Beach Cam
Sanibel Island and Captiva Island are known as the Shell Islands. They are actually made out of shells, like some magnificent work of shell art created over thousands of years. When islanders dig gardens in their backyards, they find conchs, whelks, scallops and clam shells often perfectly intact.
The best shelling is found on the beaches of Sanibel and Captiva Islands. The islands rank tops in the world for shelling because of geography. Sanibel Island does the twist as it parades along the coastline among a string of other more orderly, straight-and-narrow islands. The east-west torque of Sanibel's south end acts like a shovel scooping up all the seashells that the Gulf imports from The Caribbean and other southern seas.
The variety and abundance of of shells have made Sanibel and Captiva Islands shell-obsessed  tourist destinations. People come from all over the world, drawn by the lure of the seashell. They walk along the sands doubled over in a stance that's been dubbed the Sanibel Stoop. Every March, they gather to compare and appreciate shell collections and shell art at the annual Sanibel Shell Fair & Show. Throughout the year, shell shops sell seashells by the seashore in all shapes and sizes. and of course shells are the dominant focal point  in island decor and boutique gifts from frames to laquered shell toilet seats (yes it's true) it's all there!
Shell species that are found on Sanibel and Captiva Islands:
First Row from left to right   Lightening Whelk, Tulip, Sand Dollar
Second Row from left to right: Olive, Junonia, Coquinas
Third Row Conch, Cockle
 Highlights of the Cape Coral Mango Festival
Attended the Mango Festival in July at the German American Club in Cape Coral.  It was mango crazy!  Mango chuttney,, mango jelly, plain mango slices, mango BBQ sauce, mago marinade.  I tried them all.  Never realized this tropical fruit had so many uses.  Also learned about growing mangos in my back yard so now I am thinking of getting a tree.  There are about 15 different fruit varities. There was also musical entertainment under the big tent.  They crowned the Mango Queen and the mango pie eating contest was surreal! Vendors of all types lined the grounds.  What a great time.  Same time next year!