Oh yeah its May in the Cape!  Nights are starting to get longer, days are bright and sunny!  It's great living in this part of paradise in SW Florida!  Holiday wise we have Cinqo De Mayo and Mother's Day on tap for the month.  School ends at the end of May signaling the beginning of the summer season just around the corner! There are a host of festivals and events for the month as well as time to just sit back and relax overlooking your favorite beach area, perhaps fishing off the pier, tasting some great fruits and veggies from the local farmer's markets or dinning al fresco on Cape Coral Parkway at one of the many outdoor restaurants and of course there is shopping, dinning and entertainment at Tarpon Point or Cape Harbour.  Whatever your flavor you simply can't run out of things to do in Cape Coral or other places in SW Florida – From Port Charlotte to Marco Island the SW coast is brimming with things to do – you are in the best place on earth!   Whatever beach area you choose you will be on the blue green Gulf of Mexico water with gently rolling waves and miles of beaches for swimming, sunning, shelling or just plain relaxing!
Your Place in Paradise Awaits!
The housing market was very strong this past season (Jan -April 2015)  The median sales price for homes in Cape Coral FL for Jan 15 to Apr 15 was $161,950. This represents an increase of 3.8%, or $5,950, compared to the prior quarter and an increase of 8.7% compared to the prior year. Sales prices have appreciated 67% over the last 5 years in Cape Coral. The average listing price for Cape Coral homes for sale on Trulia was $287,481 for the week ending Apr 15, which represents an increase of 2.9%, or $7,992, compared to the prior week and an increase of 2.1%, or $5,892, compared to the week ending Mar 25. Average price per square foot for Cape Coral FL was $116, an increase of 8.4% compared to the same period last year.  There are still opportunities for that affordable vacation home or permanent residence in the Cape Coral area!
What's Happening in Cape Coral?
If there is any indication that business is booming in Cape Coral take a ride along the Pine Island Road corridor!  Three years ago when I arrived the area was in early recovery mode from the recession and housing bust.  Today is has been transformed to a bustling commercial corridor with an intermingling of big box as well as small business establishments.  A  barometer of a healthy housing market with tempered growth as well as investment by the local government in infrastructure to include roads as well as central utilities projects. The Southwest Cape Coral central water and sewer system is almost complete and plans are in place to begin the project in the Northeast areas.  With a ten year master plan in place, all of Cape Coral will have a centralized water and sewer utility service in place eliminating the need fro well and septic systems.  The central sewer system will protect the water tables as well as the canal system from leeching any hazardous materials in the eco system. Central treated water systems will insure pure water for all residents and businesses.  With commercial zoning limited in Cape Coral, this 2,400 acre corridor is emerging as the new "main street" for future generations. With utilities in and many successful stores already in place, Pine Island Road continues to attract more and more businesses. Recently a host of new businesses have made Pine Island Road area home!
The newest addition is the grand opening of the new WAWA Fuel and  Store Center at the corner of Pondella and Delprado – opening day was April 24th and a capacity crowd was on hand as the first WAWA Center in SW Florida opened their doors. Based in Philadelphia PA, WAWA is now entering the SW Florida markets.  Signature heroes, a gourmet coffee bar, upscale food service as well as fuel services greeted the crowds.  And as a good neighbor local charities were invited to participate raising funds for the Harry Chapin Food Bank and the Muscular Dystrophy Association of Cape Coral!    Read all about it here_ http://www.cape-coral-daily-breeze.com/page/content.detail/id/543735/Wawa-fans-welcome-new-store.html?nav=5004
Cape Coral Parks and Recreation Guide May -Aug 2015
Click on the link to view the many upcoming activities available in Cape Coral – from Aerobics to Zumba there is something for everyone! Athletic events, classes at the Art Center, boating the yacht club, community golf courses, swimming at the community pool, whatever your interest it's here in Cape Coral!
http://capeparks.us/summer%202015/index.html
May 1, 2015 –   First Friday Downtown Hoedown street party. FREE! Live Music, DJ's, Food, Drinks, Vendors, and FUN! That's right, the street in front of Dixie Roadhouse & Rockade will be blocked off and we party in the street! Bourbon Street Style!  Live bands on the BIG STAGE with DJ John Country outside!
http://www.capecoral.com/content/downtown-hoedown
May 2, 2015 – Cinco de Mayo themed event from 4:00pm – 10:00pm on Saturday, May 2, 2015 brought to you by the Chamber of Commerce of Cape Coral and Iguana Mia Resturant
This is a family friendly event held in the Iguana Mia parking lot on SE 47th Terrace. We will have a kids area, live entertainment on dueling stages, and much more.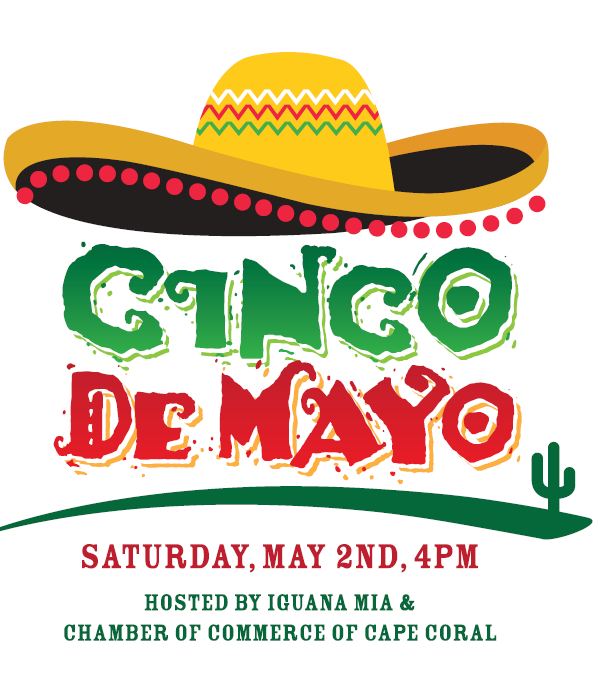 Iguana Mia,  1027 Cape Coral Pkwy. E   Cape Coral, FL 33904
http://web.capecoralchamber.com/events/Cinco-de-Mayo-2587/details
  May 6, 2015  Experience the beauty of Southwest Florida's amazing sunsets at the Cape Coral Yacht Club for the Sunset Celebration on the first Wednesday of every month. Listen to live music on the beach, shop from over 40 vendors selling unique crafts, jewelry and other gift items, or take a stroll on the pier. For vendor information please call (239) 574-0806
http://www.capecoral.net/calendar_parks/calendar_app/calendar_event_detail.html#1368#5/6/2015
 May 9, 2015
–
6th annual Cape Coral Triathlon! This is now a USAT sanctioned event and we are proud to partner with title sponsor Lee Memorial Health System. Each participant must have a valid USAT license (annual or one day). The race will feature a .25 mile swim from the Yacht Club Beach. 11 mile bike ride, and 5k run through the historic area of Southeast Cape Coral. Register at
www.active.com
Thank you for visiting our blog.  Our goal continues to provide you with a snapshot of the SW Florida area and lifestyle. We trust you found the information helpful and may spark your desire to visit. Should you need additional information or if you would like to start a property search or even visit  please feel free to
contact us
– there is no obligation and we would be more than happy to help and answer all your questions!   Have a Happy Spring and Happy Mothers Day to all Moms!
Happy New Year!
Glorious New Years Day in Cape Coral!  Temperature is in the low to mid 80's with cool down in the mid to high 60's forecasted for tonight.  It just doesn't get any better this side of paradise!  Hope you all had a great holiday celebration and best wishes for a happy, prosperous and healthy New Year!   While driving back to the Cape from our holiday travels to Kansas and Texas we could definitely see a pick up in traffic with out of state plates on cars and RVs all heading South!  A recent article in a national paper states that many of our Northern friends are seeking a warmer life experience due to the bitter cold temperatures that have taken hold in the past few weeks.  Of course one of the major "go to" places continues to be Florida!  The long term forecast for the Florida winter continues to stay firm with a warmer than usual winter and mild temperature fluctuations.  So if you need a winter break come on down plenty of sun to go around!
Is an Over 55 Active Adult Community Right for You?
One of the many housing options available in the area are the Over 55 Active Adult Retirement Communities.  With over 10,000 baby boomers approaching retirement age each day, these communities have become very popular offering many benefits such as security ( most are gated communities), active social life, access to medical care, property maintenance and upkeep, transportation services and being in an environment where everyone is "just like me".  Of course there are also cons – many communities have strict regulations and the lack of diversity of typical residential communities.  There is no right or wrong answer it just depends on your particular wants or needs regarding where one would like to live.  There are number of these communities in the Cape Coral and Fort Myers area.  The following link can help you determine if this is right for you. 
http://www.fool.com/retirement/general/2015/01/04/retirement-villages-pros-and-cons.aspx
And attached is a listing of these communities in the Cape Coral/Fort Myers area:
http://www.55places.com/florida/area/fort-myers-cape-coral
If you are interested in an Over 55 Active Adult Community please call or email us at the following link:  Contact Page
 Hop On A Trolley!
Looks like the trolley events have taken off in Cape Coral!
Since beginning just a couple of years ago, the trolley events held in the South Cape have attracted thousands of people to the city's entertainment district.  A typical trolley event has a fleet of trolleys roaming through the South Cape taking riders from one nightspot to the next. Such events as the New Year's Eve Trolley Run, the Best South Cape Martini Competition, and others have become a staple in the city's event calendar attracting more and more people with time around.
"The trolley events have been far more successful than we could have imagined," says Dixie Roadhouse Managing Partner Lynn Pippenger. "They have been a major factor in creating the South Cape as an entertainment destination in Southwest Florida."  Due to the immense success of the events, the South Cape Hospitality and Entertainment Association (SCHEA), an organization made up of South Cape bar and restaurant owners, are looking to make the trolleys a more permanent part of the South Cape nightlife.SCHEA is proposing running a single trolley throughout the South Cape entertainment district every Friday and Saturday evening beginning in February for a four-month trial period
Showcase of Homes 2015
The Cape Coral Construction Industry Association (CCCIA) announced the organization will hold its 18th Annual Showcase of Homes in early 2015.  This year's event theme is, "You only  thought you knew Cape Coral…Come See Us Now!"
The Showcase will highlight an estimated 20 decorated models by some of Southwest Florida's most prestigious and established builders. A variety of styles and price points will be showcased to entice everyone looking for a new home or just wanting to browse and dream.  Models will be open to the public on Jan. 23 – 25, Jan. 30 – Feb. 1, and Feb 6 – Feb 9. Hours the models will be open for tour is Fridays and Saturdays from 10:00am to 5:00pm and on Sundays from 12:00pm to 5:00pm. Visitors are encouraged to visit each home to see for themselves what the Cape truly has to offer. 
Housing Marker Summary – Cape Coral FL
The market continues to show a healthy growth.  Inventory is still very low and demand is increasing thereby affecting median prices as well as price per square foot both which have increased compared to last year. Multiple offers are again becoming the trend in the housing market.  There are still investment opportunities as well as single family properties priced lower than other parts of the country especially with waterfront views!
 Average price per square foot for Cape Coral FL was $112, an increase of 8.7% compared to the same period last year.
The median sales price for homes in Cape Coral FL for Oct 14 to Dec 14 was $155,000 based on 1,049 home sales. Compared to the same period one year ago, the median home sales price increased 2.6%, or $4,000, and the number of home sales decreased 5.1%.
There are currently 5,654 resale and new homes in Cape Coral on Trulia, including 21 open houses, as well as 1,913 homes in the pre-foreclosure, auction, or bank-owned stages of the foreclosure process.
The average listing price for homes for sale in Cape Coral FL was $335,867 for the week ending Dec 31, which represents an increase of 0.4%, or $1,292, compared to the prior week. Popular neighborhoods in Cape Coral include Pelican and Caloosahatchee, with average listing prices of $447,269 and $361,866.
Don't Miss These January Events In Cape Coral!
An upcoming event in January is the Cape Coral Festival of the Arts beginning on January 10th thru the 12th.  In its 30th year, this two day festival typically draws over 100,000 people to the South Cape.  Each year the festival hosts over 300 artists and craftspeople from around the country.  The event will be located on Cape Coral Parkway from Cape Coral Street to Vincennes Blvd.  Merchants will also be taking part in the activities with sidewalk sales and special offerings during the Festival.  There will also be plenty of food, activities for the kids, and fun for people of all ages.
 For more information and guide:  http://www.capecoral.com/cape-coral-festival-of-the-arts-2015-guide
Sunset Celebrations Continue in 2015
Wed, 01/07/2015 –

4:00pm

to

7:00pm
Enjoy Southwest Florida's fabulous sunsets on the first Wednesday of every month. The celebration includes live music, and over 50 vendors selling arts and crafts, jewelry, gift items, and much more! Free Admission
Saint Andrew Catholic School
Largest 4-day Festival in Cape Coral: Midway Rides, Carnival Games, Festival Food, Silent Auction, $10,000 Raffle, Live Bands, and Community Entertainment.
January 15-18- St. Andrew Festival- This four day event has become a Cape Coral tradition. In its 23rd year, the St. Andrews Festival includes over 30 midway rides, carnival games, festival food, silent auction, live bands and a $10,000 raffle. Last year the festival added the "Miss Cape Coral" Pageant and promises to have more exciting features at this year's festival.
January 17 & 18- Tour de Cape- For over 20 years, the Tour-de-Cape has brought out cycling enthusiasts to race around the city of Cape Coral. With tracks starting at 15 miles and going to 100 miles, there is something for everyone at this event. For those who prefer running to cycling, the event also hosts a 5K family run.
January 31- Best South Cape Martini Competition- Guests at the Best South Cape Martini Competition will leisurely travel around the South Cape entertainment district on a special fleet of trolleys – stopping at the participating establishments to relax with their custom cocktails and appetizer. At the end of the evening everyone votes on their favorite drink in three different categories.
We hope you had a beautiful and happy holiday season!   We wish you  a healthy and prosperous 2015 !  We will continue to bring you the best of Southwest Florida Living and continue to show you why being on the Cape is the Place to Be!  Best wishes fore the New Year and see you in February. 

February on the Cape!
Its February a time for celebration on the Cape!  Super Bowl XLVIII Broncos versus Seahawks is the talk of the town!  Looks like a "Surf and Turf" competition.- Numerous sports bars, tiki bars and other venues will be ready to host their own Super Bowl extravaganza come game day.   A great benefit of "Livin on the Cape" is that we will be having nice 80 degree weather come game day and many will be having their Super Bowl get together on their lanai wearing shorts, tees and sandals!  A far cry from the 23 degree weather for kick off at Met Life Stadium  on Sunday evening in New Jersey!  So I'll be outside with a front row seat watching on the TV lanai!  Cheers! There's more than just the Super Bowl to celebrate in Cape Coral.  The Sunset Festival, Bike Night, Symphony at Sunset, Walk of Art Festival, the Garden Fest and the Burrowing Owls are back for their own festival event.  And of course let's not forget Valentines Day!  So there's a lot to celebrate and its all here "Livin on the Cape"!  Scroll down for more details on all of these February events!
Cape Coral Means Business in 2014!
Great news!  Everywhere there are signs of Cape Coral moving forward in 2014!  Forbes magazine rates Cape Coral as third in the nation tied with Austin Texas as to where the jobs will be in 2014.  A recovering housing market, increased infra structure investment and quality of life …has increased commercial business opportunities.  A new super Wal Mart, Sam's Club and other businesses are slated for 2014! It's the place to be in 2014!  Read more here
Why Cape Coral?
Cape Coral A Natural Fit For Work and Play!
Why move to Cape Coral?  There are a ton of reasons.  Besides the great weather  Did you know that Cape Coral:
Is the

4th fastest growing

city in the US?

Has approximately

 8,000 businesses

, including industrial and white-collar businesses serving global customers

While the main economic drivers are real estate and construction, the Cape is home to several

emerging business clusters

such as finance, insurance, and real estate services, health-related services, professional business services, including architecture, engineering, law, accounting, and management consulting.

More than half of Cape Coral's

population is age 45 or younger

, and residents under 25 outnumber those over 65.

Has a

large infrastructure investment and practices green environmental policies

, utilizing sustainable growth practices to include drinking water production and wastewater treatment.  Recycled water resources for home and commercial irrigation systems.

Cape Coral is a growth market.

Only about 45 percent of the city's pre-platted lots are developed

.  It is  predicted that the population will exceed 400,000 at build-out.

The Cape is served by FGCU (Florida Gulf Coast University) , which opened in 1997 and now serves

more than 8,000 undergraduate and graduate students

along with numerous other educational institutions.
Want to get more facts and information on why to relocate you and your business to Cape Coral?  Click on to the Cape Coral Economic Development Office site.
February Events
 February 5th  Sunset Celebration!                                                        4-7PM at the Cape Coral Yacht Club
Enjoy those marvelous SW Florida sunsets the first Wednesday of each month at the Sunset Celebration at the Cape Coral Yacht Club.  Food, live music and drink specials.  Over 30 unique artists and vendors will have their wares on display for your shopping pleasure.  Free admission!
February 8th Cape Coral Bike Night!
Saturday 5-10 PM SE 47th Terrace Between Coronado Pkwy. & Vincennes Blvd. Cape Coral, FL  3904
Cape Coral Bike Night is the premier event for motorcycle enthusiasts!  Join over 10,000 people for a night of fun, food, drinks, live music and a host of vendors.
February 9th  Sunday Symphony at Sunset 
Gates open at 1pm, Concert at 4:30pm
Four Freedoms Park 4818 Tarpon Court, Cape Coral just south of Cape Coral Parkway between SE 5th and 6th Avenues
The Gulf Coast Symphony, Southwest Florida's premier community orchestra, presents its much anticipated free outdoor SYMPHONY AT SUNSET at Four Freedoms Park in Cape Coral. The performance is free and open to the public. No tickets or advanced reservations are required. This expanded community event celebrates both culinary arts and music. Sample an international array of great food from more than 20 local
restaurants, plus a wide variety of craft beers, margaritas,
and wine. Enjoy musical performances from local school
groups, and finish the day with another sensational Symphony at
Sunset. Enjoy a selection of Broadway favorites and light classics in a
beautiful Southwest Florida setting–from Southwest Florida's premier community orchestra! Bring blankets or lawn chairs and make it a great day!
February 15- All Walks of Art Festival
– On Saturday February 15th, Circus Arts United will be will be shutting down 47th Terrace from Vincennes Blvd., to 10th Pl., in Downtown Cape Coral to bring SWFL an amazing collaboration of Artists, Musicians & Entertainment!!!!! 
There will be 60+ artists displaying work. We have 20 live performers including stilts, aerial silks with trapeze rigging, fire performances, 2 local dance troupes, uni-cyclist, jugglers and 2 incredible magicians with a suspended 'houdini' act. We also have an amazing new live band dj called Frisson that plays keys, bass and drums to some amazing samples, the Bonita Beach rhythm circle, and we are working day and night to secure a stage for local musicians to perform.
February 16- Bavarian Garden Fest
The German American Club will host its annual Garden Fest on Sunday February 16th
Location:
German-American Social Club
2101 Pine Island Road
Cape Coral, FL  33910
This is a must do event for those who enjoy authentic German food and entertainment. Plenty of schnitzel, brats, potato pancakes, chicken, pretzels, beer and wine is on tap for this annual event. There will also be authentic live German music on the stages throughout the event as well as commercial vendors and crafts.
February 22- Burrowing Owl Festival
Rotary Park 5505 Rose Garden Rd.                                                                              Cape Coral, FL  33914                                                                                               (239) 549-4606
Cape Coral is home to the largest known population of the Florida Burrowing Owl, which is a species of special concern.
These pint sized birds burrow underground where they nest from late February through July and are now the official city bird of Cape Coral.
Please join us as this fun filled family event celebrates the start of the burrowing owl nesting season and all Cape Coral's natural wildlife treasures.
A partial listing of festival highlights include wildlife artists & photographers of all things natural, native and wild, environmental and wildlife organizations with educational exhibits and live animals, guided nature walks for wildlife viewing, and bus tours to local burrowing owl burrows.  A variety of native plants will be offered for sale.  Also on site will be music and several food vendors so plan to spend the day. Event proceeds will go toward local wildlife protection, preservation and education.  Admission is $5 donation for ages over 16.
Visit the Housing and Mortgage News Page
Get insights on the housing market, mortgages and other helpful tips!  Click here
See You in March!
We trust that you have enjoyed this issue of "Livin on the Cape".  Our mission continues to focus on being the good will ambassadors for Cape Coral and the surrounding area of Southwest Florida.  If you are interested in more information or looking for that special place to claim as your new home send us an email by clicking on our email contact information at the top right hand corner of the blog.  Thank you and Happy Valentines Day!