November – The last of the Halloween candy has been eaten, Daylight Savings Time goes to bed until next year, moderate temperatures prevail with early morning coolness giving way to sunny afternoons, the eagles are back in their nesting grounds as is the great horned owl family next door. You can tell its late fall in SW Florida by the turning of the license plates – meaning that the traditional Sunshine State Florida plates are now intermingled with out of state plates.  Yes the emigration of the snow birds from Northern latitudes has begun!
 Welcome Back Snowbirds!  We love your trek back to SW Florida and spending the upcoming winter with us on the Cape! 
Spotlight on Englewood Beach
A bit north of Cape Coral, Port Charlotte and Punta Gorda you will find a great beach experience – Welcome to Englewood Beach, located on Manasota Key (a key is different than an island in that it has no water source) a beautiful beach area with numerous amenities.  Parking is available for  a nominal fee.  Amenities include: basketball hoops, volleyball nets, a children's play yard and horseshoe pit with plenty of eateries across the street. The boardwalk leads to a bath house with changing facilities and showers.  There are plenty of grills and picnic tables available.  The view is fantastic!  Unobstructed views of the beach in all directions with the gentle blue green waters of the Gulf of Mexico lapping the shores.
F0r More information and directions: http://www.bestbeaches.org/best-beaches/manasota-key-beaches/englewood-beach/
Places to Visit – Koreshan State Park
The Koreshan State Historic Site is a state park in Lee County, Florida located on U.S. Highway 41 at Corkscrew Road. It was also added to the National Register of Historic Places in, 1976 under the designation of Koreshan Unity Settlement Historic District.  What was the Koreshan Unity?    The Koreshan Unity was a communal utopia formed by Cyrus Teed, who took the name "Koresh", the original Persian of his name. The Koreshans followed Teed's beliefs, called Koreshanity.  The main beliefs of
Koreshanity, or Koreshan Universalogy, are Cellular Cosmogony, which is Teed's unique form of Hollow Earth theory which puts forth the idea that the Earth, and universe are contained within a concave sphere, or 'cell'. The Koreshans even conducted several experiments, similar to those conducted by believers in a Flat Earth. Other beliefs included reincarnation, immortality, collectivism, celibacy and alchemy.
Teed's "New Jerusalem" was built in present day Estero in 1894  and for many years this utopian communal society lived in a self sufficient community.  The dream faded with the death of Teed in 1908.  In 1961 the last four members of the community deeded the property to the State of Florida.  Today you can hike, camp, canoe and take the self guided or ranger guided tour through the community.  For more information:  http://www.floridastateparks.org/koreshan/default.cfm
Cape Coral Coconut Festival:
Come and celebrate Cape Coral!  The Cape Coral Coconut Festival is an annual celebration of Cape Coral's uniqueness to the Southwest Florida area. The event includes bands, entertainment, carnival rides, games, food, contests, fireworks, and much more!
Hours: Fri. 5pm–12am, Sat. 10am-11pm, Sun. 10am–10pm.  Parking is available.  The Coconut Festival is held at Sun Splash Family Waterpark festival grounds, 400 Santa Barbara Blvd., in Cape Coral. 
Admission Price:  $7 per day 
(Children under 5 years old are free) 
Includes concerts, venue shows, and fireworks on Friday & Saturday.   Fore more information: 
http://www.cocofest.com/
 Fort Myers Beach Get Ready to Hit the Sand!
The 28th Annual American Sand Sculpting Championship is coming back to Fort Myers Beach November 21 through 30, 2014.  Master sand sculptors will craft their works of art in sand in front of the Wyndham Garden Hotel.  It is amazing what these artists do with just sand, water and their special tools!  There is parking and shuttle information at the web site. – See more at: http://fmbsandsculpting.com/
Out and About – Wildlife Watching in SW Florida
This is a great time of the year to get together with nature!  Hiking, canoeing, kayaking – the Cape Coral and surrounding area has it all for the nature enthusiast:   From hiking the Corkscrew Swamp Preserve in Naples to Moonlight Kayaking at the Eco Preserve in Cape Coral.  Or, for the less adventurous take a cruise on the Caloo or to Sanibel and see the dolphins!  Whatever your taste you will be rewarded with a vast array of wildlife viewing!
Featured Sites:
Kayaking at Four Mile Eco Preserve:  http://www.capecoral.net/department/parks_and_recreationhome/four_mile_cove_eco_preserve.php
Corkscrew Swamp Preserve: http://corkscrew.audubon.org/
Dolphin Cruise Fort Myers Princess: http://fortmyersprincess.com/
Paddle wheel River Cruise:  http://jccruises.com/
Caloosahatchee River Cruise:  http://www.purefortmyers.com/river-cruises/
Charlotte Harbor Preserve:  http://www.wildlifeviewingareas.com/wv-app/parkdetail.aspx?parkid=224
Six Mile Cypress Preserve: http://www.leeparks.org/facility-info/facility-details.cfm?Project_Num=0105
Happy Thanksgiving!
Wishing you and your family a Happy Thanksgiving.  Give thanks for all the blessings, give thanks for your family and friends and take the time to enjoy the world around you.  Best wishes and have a great Thanksgiving Holiday!
Thank you for visiting our little piece of paradise!  See you in November!  If you are interested in visiting the SW Florida area or have decided its time to have your own piece of paradise whether seasonal or full time give us a call or email us we will be glad to help!
See You In December!
It's October!
– the last wisp of the summer wind is gone and Fall is here.  Five good things about Fall in Southwest Florida:
Your pool is still up and running and the warm days and nights continue.
You haven't had to put away your "summer clothes" in fact you never have to put them away!
Your hibiscus plants and bougainvillea bushes continue to bloom
No Falling Leaves – at least not many of them!
No scrambling to rake leaves and do the Fall cleanup!
Yes its Fall in the Cape and Fort Myers area.  Great time to spend a day at the beach.  The weather is a bit cooler and the "snow bird" crowds have not arrived yet so its perfect to spend some time at your favorite beach.  From Naples to Venice there are something like 20 plus  beaches you can choose from.   Aside from lounging and swimming in the surf of the Gulf of Mexico you will also find terrific beach front eateries catering to your palate along with live entertainment.
Yes living in Southwest Florida is a Beach like the beach pictured on the right –  Marco Island Beach on the Gulf of Mexico
 Spotlight on Downtown Fort Myers

Across the Caloo (Caloosahatchee River) from Cape Coral sits the city of Fort Myers.  You may say that Fort Myers is a "Tale of Two Cities"!  There is the quaint downtown Fort Myers still with brick paved streets, quaint shops, restaurants and nightlife and then the commercial Fort Myers dotted with shopping areas and other commercial ventures.   Downtown Fort Myers is going back to the city's roots.
It started out as a fort ( hence Fort Myers) built along the river in 1841 and abandoned after 1865.  By 1885 the population was close to 400 and Thomas Edison visited the area, fell in love with the place and built his home and laboratory along the Caloosahatchee River. Henry Ford and Harvey Firestone also joined Edison in building their winter retreats in Fort Myers.   The coming of the railroad in the 1920's  ushered in the "Boom Time" for Fort Myers.  Most of the Mediterranean Revival buildings seen throughout the City were built during this period. In fact, the Mediterranean Revival style, which combines several other prominent architectural styles, typifies Florida during the 1920's. Excellent examples of Mediterranean Revival construction are to be found in commercial buildings in the downtown area as well as in private homes in all parts of the city.   Growth radiating out in all directions from the old fort grounds was to be seen during the 1920's. Still-prominent developments such as Seminole Park, Riverside Park, Edison Park, Valencia Terrace, Allen Park, Alabama Groves and others had their beginnings in the Boom Time.
The Boom Time ended with the coming of the Great Depression in the 1930's.  And it was the 1940's and World War II that revitalized the area.  Every county in Florida had air bases to take advantage of Florida's fine flying weather. Lee County's bases brought servicemen, and sometimes their families to Ft. Myers. Many of these people, and their visitors, came back in later years to become permanent residents.
Post World War II saw an influx of people coming to Florida.  Fort Myers along with Lee County has grown into a city of  approximately 70,000 residents.   Development has been concentrated east and west along the river, and south along Cleveland Avenue. New commercial buildings and shopping centers have cropped up in all parts of the city. Fortunately, the older downtown area, and much of the city's historic districts, have retained much of their old charm.  Today Downtown Ft. Myers is filled with businesses ranging from boutiques, restaurants, cafes, antiques stores, jewelers, financial houses, apartments, and professional offices to a convention center.
Things to Do in Fort Myers
It is held the first Friday of every month from 6 to 10 p.m.  The  Art Walk features local and national artwork in the downtown art galleries and several art stops in the Fort Myers River District. The evening culminates with an after party at 10 p.m.
http://www.downtownfortmyers.com/Art_Walk/
The  Fort Myers River District comes alive every month with live music on 3rd Friday in the downtown area.  There are over a dozen venues with local as well as regional performers.  From jazz to blues to rock and much more!
http://www.downtownfortmyers.com/Music_Walk/
Shopping, dining, entertainment, music, relaxation – downtown Fort Myers offers all this and more.  For photography enthusiasts there is a host of subject matter for your lens.  For boaters and anglers, the marina area offers everything you need.  For those that just want to stroll and relax along the river, no problem there are a host of parks with walking area along the Caloosahatchee for your use.  Perhaps you may want to take boat ride down the river and see the sites or take in the dolphins and manatees.   You can do that too.  In fact thee is not much you can't do in downtown Fort Myers.  For a complete guide click on the following link: http://www.downtownfortmyers.com/
 Fort Myers Sights & Sounds!
Beer Here! Craft Beer Fest coming to Fort Myers October 4th –
Beer Aficionados Mark your calendars!

The Marina at Edison Ford will host  the inaugural Fort Myers Craft Beer Fest on Saturday, October 4th on site at the River District.
Thisfestival will feature more than 75 craft beers from around the world and live musical performances. Kick off will begin at 12:00 p.m.
For more information:
http://www.prlog.org/12371974-the-marina-at-edison-ford-to-host-inaugural-fort-myers-craft-beer-fest-oct-4.html
  Arrrgghhh…..Let's Find Us Some Treasure at the Pirate's Fest!
Drive out of the Fort Myers Downtown are on McGregor Boulevard and follow this palm lined road along the river south and you will end up at Fort Myers Beach via San Carlos Boulevard.  And if you happen to be there the weekend of October 10-12 you will be in Pirate Heaven.  Yes it's the 9th Annual Fort Myers Beach Pirate Fest!   Aye tis a gathering of pirates, wenches and the like at this historic festival.  General Admission is free.  There be all kinds of grub, entertainment, sea battles  and of course pirates and wenches galore!  The festival will run the entire weekend.  Get there early and have your picture taken with a pirate or wench and don't miss the Pirate's Ball on Saturday evening!
For more information and schedule of events go to:  http://www.fortmyersbeach.org/piratefest/
Fort Myers Beach…….It's Waiting For You………
Thank you for visiting our little piece of paradise!  See you in November!  If you are interested in visiting the SW Florida area or have decided its time to have your own piece of paradise weather seasonal or full time give us a call or email us we will be glad to help!
September is Here on the Cape……
Yes, September is here …..hard to believe seems summer started just a week ago!  Labor Day Weekend marks the "official end of summer'!  Summer fades time for one last barbeque maybe, an escape to the beach for one last summer fling, maybe just relaxing in the backyard with friends.  However you plan to spend it have a  Happy and Safe Labor Day Weekend.  And of course with September school is back in session although here in Cape Coral school started on August 18th.  And of course our Northern and Midwest friends will feel a crisp breeze in the air, a change of color in the leaves and the beginning of falling leaves leading into Fall.  In the Cape, September brings its own changes though the weather will continue to be pleasant and many will flock to the beaches as well as take on hiking in the preserves as well as kayaking and boating.  There still will be some warm days however, some cool nights will begin to make their presence.  Last evening I heard the "hooting" of a horned owl a sure sign that the season is changing.  Last year we had a family of horned owls nest in a large pine tree next door.  Perhaps we'll see them again this year and soon our American Eagle couple should return to their besting site down the street.
What's Going on With Real Estate in Cape Coral?
One word – GROWING – another review from MoveTo.com shows the Cape Coral Market continuing  to grow!
Inventory for Single Family Homes continues to be at a low level with median prices continuing to rise from last year.  Price per square foot is also increasing based on the increase of median price increases.  Two things will challenge new buyers in the future – increasing interest rates – the Federal Reserve will probably increase the discount rate in October and will also probably ease of their Quantitative Easing Program.  This will definitely impact current interest rates.  Low inventories – with less units available the shift is to the sellers market versus the buyers market.  Homes in some cases are already becoming part of a bidding war between competitive buyers.  Now may be a good time to consider that new primary residence in SW Florida or even a second home to get away from those harsh upcoming winters!  A recent article from Trulia has called Cape Coral A real Estate Anomaly!  A few years ago the area was plagued with distressed properties from foreclosures and in some cases just abandonment due to the housing bubble bust.  Propety levels went to all time lows and sellers couldn't even give property away.  All that has changed from Bust to Recovery.  And, it looks like it is sustainable slow growth without huge peaks.  That will protect current buyers getting into the market.  We don't need another housing frenzy that will feed the market with inflated non-sustainable prices!  Here is a link to the article: http://activerain.trulia.com/blogsview/4458961/cape-coral–a-real-estate-anomaly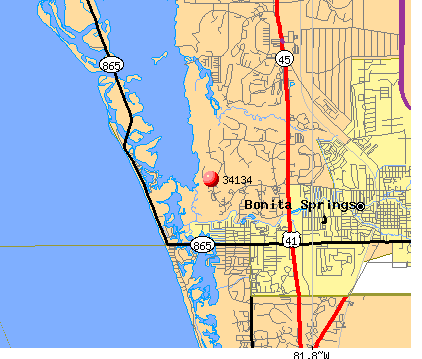 Spotlight on Bonita Springs!
One of the areas that Aqua Property Group, Inc. represents is the city of Bonita Springs.  Bonita Springs is a city in Lee County, Florida. The population was 43,914 at the 2010 census.   It is part of the Cape Coral–Fort Myers Metropolitan Area. The city is a coastal city on the Gulf of Mexico.  The city motto is "Small Town Charm, Big Bright Future!" 
The city is located on both Estero Bay and the Gulf of Mexico. The area referred to as Bonita Beach is located on a road-accessible barrier island (Little Hickory Island) that lies between the Gulf of Mexico and Estero Bay. The Imperial River flows through the downtown district of the city and empties out into Estero Bay.
The city is the northernmost city on the west coast of Florida that has a tropical climate, having a mean January temperature of 65 °F (18 °C).
While existing primarily as a retirement and second home vacation community, Bonita Springs is home to a growing number of businesses due to low business taxes, an abundance of inexpensive commercial office space, and a growing community of educated professionals. Whether you are looking to explore nature, relax on the beach, or take a boat out on its clear waters, Bonita Springs is an unforgettable destination with a little something for everyone. Enjoy the wildlife and views of Barefoot Beach Preserve or rent a boat to take out on the water.  Bonita Springs Public Beach is a great place to go swimming or relax and unwind, and you can even bring Fido to the town's very own Dog Beach.
Bonita Springs is part of the Lee County School District. and provides higher education opportunities at Florida Gulf Coast University in Fort Myers and Florida SouthWestern State College in Naples/Fort Myers.
Transportation:
Airports
Major highways
Points of interest
Art League of Bonita Springs – an arts organization that hosts both local and traveling art exhibitions, arts classes and other community events.  Click on to Website
Bonita Beach Park – a 2.5-acre (10,000 m

2

) beachfront park that features a boardwalk and swimming area. Sand dunes and coastal vegetation surround a gazebo and 8 picnic shelters. Click on to Website
Bonita Nature Place – Bonita Nature Place (BNP) provides a local place for learning experiences, volunteerism, and outdoor family activities that strengthens the environmental stewardship commitment within the community while fostering an awareness of old Southwest Florida in its unique, natural setting. Click on to Website
Barefoot Beach Preserve Park – is 342 acres (1.38 km

2

) of natural land and one of the last undeveloped barrier islands on Florida's southwest coast.  Click on Website
There are also 10 beach accesses with public parking located up and down Bonita Beach.
If interested in visiting Bonita Springs, click on Trip Advisor here 
If interested in finding a new home in this part of paradise give us a call or email us!
Housing and Lifestyles What's New?
This months topics:
Florida The Tax Friendly State -Take a look at your state and see how it compares to Florida one of the Tax Friendly States! No stat income tax leads the way! Great to consider if you are thinking about a move and if you are a retiree, Florida does not tax your pension or Social Security benefit!   Click here: http://www.kiplinger.com/tool/taxes/T055-S001-kiplinger-tax-map/#cZuLQqfXggohC3Me.01
Test Your Home Knowledge Fun Quiz – Test Your Knowledge – How long should things last in your home? May help you look at what needs replacement or maintenance.  http://www.kiplinger.com/quiz/real-estate/T029-S001-how-long-should-it-last/index.html
Home Buying Smarts! – Fun Quiz on Home buying!  Click here:  http://www.kiplinger.com/quiz/real-estate/T010-S001-how-smart-a-home-buyer-are-you/index.html

What's Happening in the Cape Coral Real Estate Market and why is it an Anomaly? Read how is going from bust to recovery! Click here: http://activerain.trulia.com/blogsview/4458961/cape-coral–a-real-estate-anomaly
Thank you for visiting our little piece of paradise!  See you in October!  If you are interested in visiting the SW Florida area or have decided its time to have your own piece of paradise weather seasonal or full time give us a call or email us we will be glad to help! Have a safe and enjoyable Labor Day Weekend!

August On the Cape!
August on the Cape – Traditionally the last month of summer so its beach time, cooling off in the surf or at Sun Splash Fun Park, finding a nice shady spot under a beach umbrella, sitting out on your lanai in the evening and feeling that summer breeze kick in.  Whatever your pleasure you are sure to find it here in Cape Coral and SW Florida.  The beaches are pretty much uncrowded awaiting the influx of the seasonal snow birds in October and November.  Farmers markets have moved to their indoor locations to keep their wares cool.  Restaurants have their summer patio spaces ready for your dining pleasure.  Dinner fare can consists of great seafood caught in the local Gulf waters, some great steaks from Florida Beef it's what's for dinner, or perhaps your taste is more international – if so you can choose from a variety of Japanese, Chinese, Italian, Tex Mex and other international venues throughout the city. And of course nothing beats the American favorite – the Burger!  Plenty of gourmet burger venues throughout the Cape and surrounding area many featuring Black Angus Certified Beef – delicious!  Don't forget the beach areas in Fort Myers – plenty of outdoor restaurants and dining spaces  line the Fort Myers Beach area some even have great nightly entertainment.
School Days Are Here!
And yes August is the start of the school year here in SW Florida.  August 8th will be the first day of school for the 2014-2015 school year.  Please drive carefully and adhere to all stopped school box regulations.  Cape Coral is part of the Lee County School District. The district is the ninth-largest district in Florida and the 40th largest school district in the United States.   For more information on Cape Coral School Systems click on to the this link:  http://www.capecoral.com/school   Summer's not quite over for school bound students.  Cape Coral offers 39 parks, 20 of which have playgrounds suitable for ages 3 to 12, throughout the city, offering ample opportunities for a day of fun. – See more at: http://www.cape-coral-daily-breeze.com/page/content.detail/id/540584/Summer-s-not-quite-over—-.html?nav=5011
Cape Coral Makes the Top 10 with Highest Projected Job Growth
Economic growth continues a positive trend in SW Florida. Naples ranked number 1 with Cape Coral ranked number 6 among the 10 metro areas with the highest projected job growth. Projections for Cape Coral job growth +3.7%, median income $
…
46,016, unemployment rate 5.8%. The other top areas include Port St. Lucie, FL, 5 major areas in Texas (Houston, Dallas, Austin, St. Antonio and McAllen) and one in Colorado (Greely) and NC (Raleigh) .
See more at:  http://www.forbes.com/sites/kurtbadenhausen/2014/07/23/naples-austin-head-list-of-best-cities-for-job-growth/

Cape Coral Housing Market  Summary April-July 2014
Summary – Source  http://www.trulia.com/real_estate/Cape_Coral-Florida/market-trends/ The housing market continues to appreciate with another increase in median sales price for all residential homes types.  And the average price per square foot also continues to increase.  The summary highlights: The median sales price for homes in Cape Coral FL for Apr 14 to Jul 14 was $155,000. This represents an increase of 2.1%, or $3,250, compared to the prior quarter and an increase of 5.1% compared to the prior year. Sales prices have appreciated 64% over the last 5 years in Cape Coral. The average listing price for Cape Coral homes for sale on Trulia was $310,513 for the week ending Jul 23, which represents a decline of 1.2%, or $3,767, compared to the prior week and a decline of 0.4%, or $1,150, compared to the week ending Jul 02. Average price per square foot for Cape Coral FL was $109, an increase of 5.8% compared to the same period last year. Popular neighborhoods in Cape Coral include Pelican, Caloosahatchee, Hancock, Mariner, Burnt Store, and Trafalgar.
Looking to "Test Drive" the Cape Coral Area With a Seasonal Rental?
Just like summer is rolling by in SW Florida – so it is "up North"!  Perhaps you have explored the idea of taking a "Winter Break" this year and heading here to SW Florida for a couple of weeks or longer to "get out of the cold"!  Won't be long when "Old Man Winter" will make his return trip to the Northeast and Midwest.  Why not consider a Cape Coral Test Run" this year.  We have provided a number of links that can help you navigate through the rental market. If your stay is short term say for a week perhaps a stay at one of the Gulf  resorts will work for you.  Links for those areas also provided here on this blog. If you have any questions on the area or need additional information please call us or email us our contact information is: Our Email Address: aquadreamteam@gmail.com Bett Lucarelli – 239-887-0201 John Kapusta – 508-277-7925

Links for Seasonal Rentals:
Vacationhomerentals.com     http://www.vacationhomerentals.com/vacation-rentals/Cape-Coral-Gulf-Coast-South-Florida.htm?utm_source=bing&utm_medium=cpc&utm_campaign=Bing+CPC+Campaign&ef_id=U9JUhQAAAPgYYmhJ:20140801144249:s
Renters.com    http://www.renters.com/listing?q=cape+coral&utm_source=Bing&utm_medium=CPC&utm_term=cape%20coral%20seasonal%20rentals&utm_campaign=USA-Florida-CapeCoralFlorida
VRBO Rentals http://www.vrbo.com/vacation-rentals/usa/florida/south-west/cape-coral
Homeaway.com  http://www.homeaway.com/search/refined/florida/cape-coral/region:963/Pay+Per+Booking:PPB?utm_source=bing&utm_medium=cpc&keyword=Cape%20Coral%20Cabin%20rental&matchtype=b&utm_content=&utm_campaign=%7CNODE%7CUSA%7CFlorida%7CCape%20Coral%7C%7CPPB&k_clickid=6f6c7e8a-8fd6-41bb-84c1-054a53f2e459
Links for Resort Accommodations:
Westin Marina and Resort Cape Coral   http://www.westincapecoral.com/
Dolphin Key Resort Cape Coral  http://www.dolphinkeyresort.com/
Point Estero Beach Resort  http://www.pointeestero.com/?NCK=8556741470
The Sandpiper Gulf Resort  http://sandpipergulfresort.com/
Fort Myers Beach Villas  http://www.fortmyersbeachvillas.com/
Best Western Beach Resort  http://www.bwbeachresort.com/
Additional Fort Myers Beach/Sanibel Island Resorts http://www.fortmyers-sanibel.com/stay/?utm_source=bing&utm_medium=cpc&utm_term=%2Bresorts%20%2Bfort%20%2Bmyers&utm_campaign=MI+Fort+Myers+Sanibel+Lodging
Makin Bacon!
For their next event, the South Cape Hospitality and Entertainment Association is literally going outside the box and into the frying pan. The association is set to host its inaugural "South Cape BaconFest Trolley Run" Saturday, August 23. The event will take place from 6:00pm to 11:00pm, and brings back the popular festival trolleys to take attendees to the 13 participating South Cape bars and restaurants.  At each stop, attendees will enjoy a bacon themed drink or food sample that ranges from appetizers to entrees to desserts.
Check-in for "BaconFest" will begin at 5:00pm at Big John Plaza and Club Square. Participants may park in the public lots and ride the trolleys to the other locations. All participants will need to check-in by 7:00pm to obtain event wristband and passport. Tickets cost $20 per person and can be purchased at any of the participating locations. There are only 1,000 tickets available for the event, and they will be sold on a first come, first serve basis. Attendees of this event must be at least 21 years old.
Participating locations are:
Backstreets Sports Bar- 915 SE 47th Terrace
Chicago Pizza- 1341 SE 47th Terrace
Ciao- 823 SE 47th Terrace
Cruiser's Lounge- 1517 SE 47th Terrace
Dixie Roadhouse- 1023 SE 47th Terrace
Monkey Bar & Steakhouse- 1428 Lafayette Street
Rack'em Billiards- 1011 SE 47th Terrace
Ralph's Place of Cape Coral- 1305 Cape Coral Parkway
Rockade- 1023 SE 47th Terrace
Send It Sweetly- 1309 SE 47th Terrace
The Dek- 4704 SE 15th Avenue
The Island Seafood Restaurant- 1339 Cape Coral Parkway E
Tiki Hut @ Dolphin Key Resort- 1502 Miramar Street
We trust that you have enjoyed this issue of "Livin on the Cape".  Please make sure to visit our Housing and Mortgage News  Click on the Housing and Mortgage News Tab up top for housing and financial information.  This months two featured articles:
Going Solar?  6 Things You Must Know About Going Solar!
5 Tips to Help You Sell Your Home at the Best Price!
Our mission continues to focus on being the good will ambassadors for Cape Coral and the surrounding area of Southwest Florida.  If you are interested in more information or looking for that special place to claim as your new home send us an email by clicking on our email contact information at the top right hand corner of the blog.  Thank you and enjoy!  See you in September
It's May – Cinco de Mayo Festivals, a tribute to Moms on Mother's Day, warmer longer days and it ends with our solemn thanks to those that gave the supreme sacrifice for our freedom,  Memorial Day Weekend.   Summer is just around the corner Livin in the Cape!
May arrives after a mild April!  There is a definite change in the air – started running the AC on a more regular basis since mid April.  The warmer humid weather is just around the corner. Now is a good time to have your local service contractor do a AC Tune Up.  You don't want to be without AC in the middle of summer!  It's akin to having no furnace available in the Northeast in one of the cold winter months!   Pool cover off for good water temperature is already in the low to mid 80's.  Snow birds have definitely gone for the season back to Northern latitudes.  The exodus started just before Easter.  We saw numerous out of state cars, campers and RV vehicles heading North on I75.  So I look at May as the bridging month – summer is not too far away and changes are evident:
Sun Splash Water Park is open again. Located adjacent to Lake Kennedy, it really is the "Coolest Place to Be" for the upcoming season. Click on the link for more information on operating hours and admission prices.
May will be the last month for kayaking in the Four Mile Cove Ecological Preserve.  The Kayak Shack will close for the season on Memorial Day and reopen for weekend and special event holidays November through May. Click on the link for kayak rental information and operating hours.  Don't forget to bring your camera!
The walking trail at the Four Mile Cove Ecological Preserve is open year round.  If you plan on walking the trail through the summer months bring plenty of water to stay well hydrated. Click on the link for trail maps and guides.
The Yacht Club Community Pool has also reopened for the season.  The pool will be open to the public from March through October.  Rates and pool memberships are available follow the link above.  Right next door is the Cape Coral Yacht Club Community Park featuring the beach area, the fishing pier, boat launches, picnic areas and pavilion.  The ballroom is a popular rental spot for weddings, private parties and business meetings. Click here for ballroom rental information.  An enclosed beach pavilion is also available for picnics, BBQ's, birthday parties and other casual events. For beach pavilion rental info, click here.
All of these great programs and amenities are brought  to you by the City of Cape Coral Parks and Recreation Department which emphasizes that "s parks are where lifetime friendships are formed, where the gap between generations is bridged, and where people discover what they have in common. How do you grow a hometown with a sense of community, while conserving green spaces and waterways for generations to come? It Starts in Parks!"  Visit the Parks and Recreation Home Page Here   
Attached is the link for the Summer Season Parks and Recreations Activities.

Hats Off to the City of Cape Coral – the city continues to provide a great quality of life with all of the different programs from sports to theater, to the arts to recreation Cape Coral is a great place to live and enjoy.  Please visit the new City of Cape Coral Website Here and navigate through the various resources available in the city.  If you are considering a move to SW Florida then the Cape Coral area is the place to be!
The Burrowing Owl – Official Bird of Cape Coral
Cape Coral is home to the largest population of the Florida species of the Burrowing Owl in the State of Florida. Birders and photographers come from all over the world to see and photograph them.
The Florida Burrowing Owl (Athene cunicularia floridan) is the most encountered lisited species in the City of Cape Coral with over 2,500 owl burrows. The Florida Burrowing Owl is classified as a "species of special concern" by the Florida Fish and Wildlife Conservation Commission (FFWCC). Burrows, owls, and their eggs are protected from harassment and/or disturbance by State law and by the Federal Migratory Bird Treaty Act.  In 2005, The City of Cape Coral designated the Florida Burrowing Owl the official City Bird. (Resolution 50-05)
The Burrowing Owl is a small, pint-sized bird that lives in open, treeless areas. The Burrowing Owl spends most of its time on the ground, where its sandy brown plumage provides camouflage from potential predators.  One of Florida's smallest owls, this bird averages nine inches in height, with a wingspan of 21 inches. The Burrowing Owl has bright yellow eyes and unusually long legs that provide additional height for a better view to spot predators.  Instead of nesting in the trees, as most birds do, the Burrowing Owl gets its name from living underground in burrows. It digs its own holes or lives in abandoned Gopher Tortoise burrows. Burrowing owls are unique in that they can live in close proximity to humans.
 Nesting season officially began in mid-February and lasts through mid-July, but the owls don't always know that. We have seen very young chicks in two burrows in town as of mid December.
Visit the Housing and Mortgage News Page
Get insights on the housing market, mortgages and other helpful tips!
This Months Topics:
The FHA back to work program: A second chance for homeowners
When Homeownership is Better than Renting!-10 Good Reasons to Own versus Rent

Remodeling that Bathroom? Avoid these 5 mistakes:
See You in June
Happy Mother's Day to all Moms – for all that you do we salute you on your special day!
A salute to all our Veterans and current service members thank you for what you have and done and for what you are doing to guard our freedom.  Words alone cannot compensate the sacrifice you have endured.  Make sure to buy a "poppy" to support our veterans.
We trust that you have enjoyed this issue of "Livin on the Cape".  Our mission continues to focus on being the good will ambassadors for Cape Coral and the surrounding area of Southwest Florida.  If you are interested in more information or looking for that special place to claim as your new home send us an email by clicking on our email contact information at the top right hand corner of the blog.  Thank you and enjoy!