It's The Most Wonderful Time of the Year……..
The Christmas Holiday Season is here….the rush of Thanksgiving, Black Friday and Cyber Monday is over and now its countdown to the Season of Light!  Twenty four shopping days as of today until Christmas and yes the malls and stores are bustling with shoppers galore.  Aside from shopping there are other fun activities taking place in Cape Coral and the surrounding area to keep you in that Holiday spirit!  Of course there is no snow or cold to contend with so you can decorate the outside of your home basking in the warmth of the December sun as well as attend various festivities without all that "bundling up"!  That is one of the advantages of Christmas on the Cape!
Christmas Happenings in Cape Coral 2014
December 6- Holiday Festival of Lights- Come celebrate the holidays with Cape Coral as the Chamber of Commerce of Cape Coral hosts its annual lighting of the Christmas tree in downtown Cape Coral. The festival also boasts four stage areas filled with over 20 different entertainers including drum lines, dance troupes, actors and musicians. There will also be plenty of attractions for the children to enjoy, including Cape Coral's version of a winter wonderland.  For More information: http://www.capecoral.com/cape-coral-holiday-festival-of-lights-2014
December 13- Cape Bike Night- The City of Cape Coral's Parks & Recreation hosts one the largest collection of motorcycles, live music, food, games and entertainment in Southwest Florida. With four different events throughout the season, Bike Night has become one of Cape Coral's most anticipated events. Returning this year; two stages of live music, Slow Bike Race, and Dixie Roadhouse Bull Riding Contest.  For more information: http://www.ccbikenight.com/
December 20- Holiday Boat-A-Long- Celebrate Christmas in Florida style. This Cape Coral tradition is terrific for families. Watch from the Bimini Basin at Four Freedoms Park as over 100 boats decorated with lights, costumes, and more parade around the Bimini in true holiday spirit.  At Four Freedoms Park, the landlubbers watch the boats gather in the Bimini Basin before they begin meandering through the canals of south Cape Coral. Along with providing an ideal seat to watch the illuminated vessels, the park features live holiday music, decorated trees, Christmas crafts, food and beverages for sale.  For more information:  http://www.capecoral.com/content/cape-coral-holiday-boat-parade-2014
December 31- South Cape New Year's Eve Trolley Run- A brand new event to ring in the New Year! Take the trolley and enjoy some of the South Cape's best bars and restaurants on a night made for festive fun. Drinks specials, appetizers, live music is just the beginning. Come to South Cape and Celebrate New Year's Eve 2014 Trolley Style.   $5.00 wristband gets you unlimited trolley shuttle on a designated route with 12 stops throughout the South Cape Dining & Entertainment District  From 7 pm to 12 midnight
Free parking in the numerous public parking lots.  South Cape, your dining and entertainment destination.  Must be 21+ – ID Required – No Exceptions
Read more at http://www.wherevent.com/detail/South-Cape-Hospitality-South-Cape-New-Year-s-Eve-2014-Trolley-Event#OX02d3dBlRrCg5sw.99
 Cape Coral Market Trends – Median Prices continue to increase as sales prices have appreciated year after year for the past 5 years! –
Source: Trulia.com
The median sales price for homes in Cape Coral FL for Aug 14 to Nov 14 was $152,750. This represents a decline of 1.1%, or $1,750, compared to the prior quarter and an increase of 2.2% compared to the prior year. Sales prices have appreciated 49% over the last 5 years in Cape Coral. The average listing price for Cape Coral homes for sale on Trulia was $314,870 for the week ending Nov 19, which represents a decline of 1.5%, or $4,820, compared to the prior week and an increase of 1.3%, or $4,170, compared to the week ending Oct 29. Average price per square foot for Cape Coral FL was $109, an increase of 6.9% compared to the same period last year. Popular neighborhoods in Cape Coral include Pelican, Caloosahatchee, Hancock, Mariner, Trafalgar, and Burnt Store.
| No. Bedrooms | Aug – Nov '14 | y-o-y | 3 months prior | 1 year prior | 5 years prior |
| --- | --- | --- | --- | --- | --- |
| 1 bedroom | $70,000 | +75.0% | $56,750 | $40,000 | $69,900 |
| 2 bedrooms | $124,000 | +22.8% | $110,000 | $101,000 | $80,000 |
| 3 bedrooms | $155,000 | +2.2% | $159,000 | $151,720 | $100,000 |
| 4 bedrooms | $210,000 | -2.3% | $212,900 | $215,000 | $135,000 |
| All properties | $152,750 | +2.2% | $154,500 | $149,450 | $102,500 |
If you are interested in that second vacation home or looking to make a move "down south", now is a great time to explore your options in Cape Coral, Fort Myers or any of the other communities in the surrounding area.  We would be glad to be your exclusive buyer's agent in helping you find your place  in paradise!  Give us a call or shoot us an email and we would be more than happy to help – even if you just need more information on the area let us know!
Go to our contact page:  http://aquadreamteam.com/?page_id=26
The City of Cape Coral – "where you can build a business, buy a house and still have money to play!"
-Cape Coral Office of Economic Development
Come to Where it's Fun to Work and Play!
Best wishes for a Happy Holiday Season…….See you in the New Year!
It's October!
– the last wisp of the summer wind is gone and Fall is here.  Five good things about Fall in Southwest Florida:
Your pool is still up and running and the warm days and nights continue.
You haven't had to put away your "summer clothes" in fact you never have to put them away!
Your hibiscus plants and bougainvillea bushes continue to bloom
No Falling Leaves – at least not many of them!
No scrambling to rake leaves and do the Fall cleanup!
Yes its Fall in the Cape and Fort Myers area.  Great time to spend a day at the beach.  The weather is a bit cooler and the "snow bird" crowds have not arrived yet so its perfect to spend some time at your favorite beach.  From Naples to Venice there are something like 20 plus  beaches you can choose from.   Aside from lounging and swimming in the surf of the Gulf of Mexico you will also find terrific beach front eateries catering to your palate along with live entertainment.
Yes living in Southwest Florida is a Beach like the beach pictured on the right –  Marco Island Beach on the Gulf of Mexico
 Spotlight on Downtown Fort Myers

Across the Caloo (Caloosahatchee River) from Cape Coral sits the city of Fort Myers.  You may say that Fort Myers is a "Tale of Two Cities"!  There is the quaint downtown Fort Myers still with brick paved streets, quaint shops, restaurants and nightlife and then the commercial Fort Myers dotted with shopping areas and other commercial ventures.   Downtown Fort Myers is going back to the city's roots.
It started out as a fort ( hence Fort Myers) built along the river in 1841 and abandoned after 1865.  By 1885 the population was close to 400 and Thomas Edison visited the area, fell in love with the place and built his home and laboratory along the Caloosahatchee River. Henry Ford and Harvey Firestone also joined Edison in building their winter retreats in Fort Myers.   The coming of the railroad in the 1920's  ushered in the "Boom Time" for Fort Myers.  Most of the Mediterranean Revival buildings seen throughout the City were built during this period. In fact, the Mediterranean Revival style, which combines several other prominent architectural styles, typifies Florida during the 1920's. Excellent examples of Mediterranean Revival construction are to be found in commercial buildings in the downtown area as well as in private homes in all parts of the city.   Growth radiating out in all directions from the old fort grounds was to be seen during the 1920's. Still-prominent developments such as Seminole Park, Riverside Park, Edison Park, Valencia Terrace, Allen Park, Alabama Groves and others had their beginnings in the Boom Time.
The Boom Time ended with the coming of the Great Depression in the 1930's.  And it was the 1940's and World War II that revitalized the area.  Every county in Florida had air bases to take advantage of Florida's fine flying weather. Lee County's bases brought servicemen, and sometimes their families to Ft. Myers. Many of these people, and their visitors, came back in later years to become permanent residents.
Post World War II saw an influx of people coming to Florida.  Fort Myers along with Lee County has grown into a city of  approximately 70,000 residents.   Development has been concentrated east and west along the river, and south along Cleveland Avenue. New commercial buildings and shopping centers have cropped up in all parts of the city. Fortunately, the older downtown area, and much of the city's historic districts, have retained much of their old charm.  Today Downtown Ft. Myers is filled with businesses ranging from boutiques, restaurants, cafes, antiques stores, jewelers, financial houses, apartments, and professional offices to a convention center.
Things to Do in Fort Myers
It is held the first Friday of every month from 6 to 10 p.m.  The  Art Walk features local and national artwork in the downtown art galleries and several art stops in the Fort Myers River District. The evening culminates with an after party at 10 p.m.
http://www.downtownfortmyers.com/Art_Walk/
The  Fort Myers River District comes alive every month with live music on 3rd Friday in the downtown area.  There are over a dozen venues with local as well as regional performers.  From jazz to blues to rock and much more!
http://www.downtownfortmyers.com/Music_Walk/
Shopping, dining, entertainment, music, relaxation – downtown Fort Myers offers all this and more.  For photography enthusiasts there is a host of subject matter for your lens.  For boaters and anglers, the marina area offers everything you need.  For those that just want to stroll and relax along the river, no problem there are a host of parks with walking area along the Caloosahatchee for your use.  Perhaps you may want to take boat ride down the river and see the sites or take in the dolphins and manatees.   You can do that too.  In fact thee is not much you can't do in downtown Fort Myers.  For a complete guide click on the following link: http://www.downtownfortmyers.com/
 Fort Myers Sights & Sounds!
Beer Here! Craft Beer Fest coming to Fort Myers October 4th –
Beer Aficionados Mark your calendars!

The Marina at Edison Ford will host  the inaugural Fort Myers Craft Beer Fest on Saturday, October 4th on site at the River District.
Thisfestival will feature more than 75 craft beers from around the world and live musical performances. Kick off will begin at 12:00 p.m.
For more information:
http://www.prlog.org/12371974-the-marina-at-edison-ford-to-host-inaugural-fort-myers-craft-beer-fest-oct-4.html
  Arrrgghhh…..Let's Find Us Some Treasure at the Pirate's Fest!
Drive out of the Fort Myers Downtown are on McGregor Boulevard and follow this palm lined road along the river south and you will end up at Fort Myers Beach via San Carlos Boulevard.  And if you happen to be there the weekend of October 10-12 you will be in Pirate Heaven.  Yes it's the 9th Annual Fort Myers Beach Pirate Fest!   Aye tis a gathering of pirates, wenches and the like at this historic festival.  General Admission is free.  There be all kinds of grub, entertainment, sea battles  and of course pirates and wenches galore!  The festival will run the entire weekend.  Get there early and have your picture taken with a pirate or wench and don't miss the Pirate's Ball on Saturday evening!
For more information and schedule of events go to:  http://www.fortmyersbeach.org/piratefest/
Fort Myers Beach…….It's Waiting For You………
Thank you for visiting our little piece of paradise!  See you in November!  If you are interested in visiting the SW Florida area or have decided its time to have your own piece of paradise weather seasonal or full time give us a call or email us we will be glad to help!
September is Here on the Cape……
Yes, September is here …..hard to believe seems summer started just a week ago!  Labor Day Weekend marks the "official end of summer'!  Summer fades time for one last barbeque maybe, an escape to the beach for one last summer fling, maybe just relaxing in the backyard with friends.  However you plan to spend it have a  Happy and Safe Labor Day Weekend.  And of course with September school is back in session although here in Cape Coral school started on August 18th.  And of course our Northern and Midwest friends will feel a crisp breeze in the air, a change of color in the leaves and the beginning of falling leaves leading into Fall.  In the Cape, September brings its own changes though the weather will continue to be pleasant and many will flock to the beaches as well as take on hiking in the preserves as well as kayaking and boating.  There still will be some warm days however, some cool nights will begin to make their presence.  Last evening I heard the "hooting" of a horned owl a sure sign that the season is changing.  Last year we had a family of horned owls nest in a large pine tree next door.  Perhaps we'll see them again this year and soon our American Eagle couple should return to their besting site down the street.
What's Going on With Real Estate in Cape Coral?
One word – GROWING – another review from MoveTo.com shows the Cape Coral Market continuing  to grow!
Inventory for Single Family Homes continues to be at a low level with median prices continuing to rise from last year.  Price per square foot is also increasing based on the increase of median price increases.  Two things will challenge new buyers in the future – increasing interest rates – the Federal Reserve will probably increase the discount rate in October and will also probably ease of their Quantitative Easing Program.  This will definitely impact current interest rates.  Low inventories – with less units available the shift is to the sellers market versus the buyers market.  Homes in some cases are already becoming part of a bidding war between competitive buyers.  Now may be a good time to consider that new primary residence in SW Florida or even a second home to get away from those harsh upcoming winters!  A recent article from Trulia has called Cape Coral A real Estate Anomaly!  A few years ago the area was plagued with distressed properties from foreclosures and in some cases just abandonment due to the housing bubble bust.  Propety levels went to all time lows and sellers couldn't even give property away.  All that has changed from Bust to Recovery.  And, it looks like it is sustainable slow growth without huge peaks.  That will protect current buyers getting into the market.  We don't need another housing frenzy that will feed the market with inflated non-sustainable prices!  Here is a link to the article: http://activerain.trulia.com/blogsview/4458961/cape-coral–a-real-estate-anomaly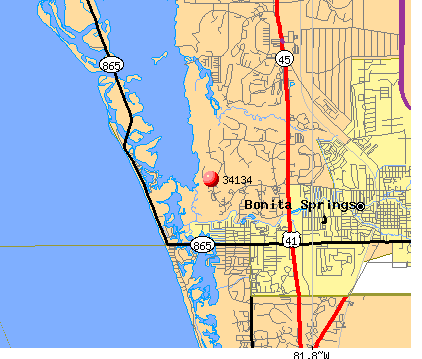 Spotlight on Bonita Springs!
One of the areas that Aqua Property Group, Inc. represents is the city of Bonita Springs.  Bonita Springs is a city in Lee County, Florida. The population was 43,914 at the 2010 census.   It is part of the Cape Coral–Fort Myers Metropolitan Area. The city is a coastal city on the Gulf of Mexico.  The city motto is "Small Town Charm, Big Bright Future!" 
The city is located on both Estero Bay and the Gulf of Mexico. The area referred to as Bonita Beach is located on a road-accessible barrier island (Little Hickory Island) that lies between the Gulf of Mexico and Estero Bay. The Imperial River flows through the downtown district of the city and empties out into Estero Bay.
The city is the northernmost city on the west coast of Florida that has a tropical climate, having a mean January temperature of 65 °F (18 °C).
While existing primarily as a retirement and second home vacation community, Bonita Springs is home to a growing number of businesses due to low business taxes, an abundance of inexpensive commercial office space, and a growing community of educated professionals. Whether you are looking to explore nature, relax on the beach, or take a boat out on its clear waters, Bonita Springs is an unforgettable destination with a little something for everyone. Enjoy the wildlife and views of Barefoot Beach Preserve or rent a boat to take out on the water.  Bonita Springs Public Beach is a great place to go swimming or relax and unwind, and you can even bring Fido to the town's very own Dog Beach.
Bonita Springs is part of the Lee County School District. and provides higher education opportunities at Florida Gulf Coast University in Fort Myers and Florida SouthWestern State College in Naples/Fort Myers.
Transportation:
Airports
Major highways
Points of interest
Art League of Bonita Springs – an arts organization that hosts both local and traveling art exhibitions, arts classes and other community events.  Click on to Website
Bonita Beach Park – a 2.5-acre (10,000 m

2

) beachfront park that features a boardwalk and swimming area. Sand dunes and coastal vegetation surround a gazebo and 8 picnic shelters. Click on to Website
Bonita Nature Place – Bonita Nature Place (BNP) provides a local place for learning experiences, volunteerism, and outdoor family activities that strengthens the environmental stewardship commitment within the community while fostering an awareness of old Southwest Florida in its unique, natural setting. Click on to Website
Barefoot Beach Preserve Park – is 342 acres (1.38 km

2

) of natural land and one of the last undeveloped barrier islands on Florida's southwest coast.  Click on Website
There are also 10 beach accesses with public parking located up and down Bonita Beach.
If interested in visiting Bonita Springs, click on Trip Advisor here 
If interested in finding a new home in this part of paradise give us a call or email us!
Housing and Lifestyles What's New?
This months topics:
Florida The Tax Friendly State -Take a look at your state and see how it compares to Florida one of the Tax Friendly States! No stat income tax leads the way! Great to consider if you are thinking about a move and if you are a retiree, Florida does not tax your pension or Social Security benefit!   Click here: http://www.kiplinger.com/tool/taxes/T055-S001-kiplinger-tax-map/#cZuLQqfXggohC3Me.01
Test Your Home Knowledge Fun Quiz – Test Your Knowledge – How long should things last in your home? May help you look at what needs replacement or maintenance.  http://www.kiplinger.com/quiz/real-estate/T029-S001-how-long-should-it-last/index.html
Home Buying Smarts! – Fun Quiz on Home buying!  Click here:  http://www.kiplinger.com/quiz/real-estate/T010-S001-how-smart-a-home-buyer-are-you/index.html

What's Happening in the Cape Coral Real Estate Market and why is it an Anomaly? Read how is going from bust to recovery! Click here: http://activerain.trulia.com/blogsview/4458961/cape-coral–a-real-estate-anomaly
Thank you for visiting our little piece of paradise!  See you in October!  If you are interested in visiting the SW Florida area or have decided its time to have your own piece of paradise weather seasonal or full time give us a call or email us we will be glad to help! Have a safe and enjoyable Labor Day Weekend!

Marching Forward!
It's March in Cape Coral and everything in Cape Coral is "marching forward"!  It's an exciting and vibrant time for the city.  New housing permits are on the rise up 37% from 2012.  There is movement everywhere from the repaving projects in south Cape to the Pine Island road expansion.  You may have noticed detours and construction signs on Trafalgar and neighboring areas.  Yes the Utilities Expansion Project is also marching forward.  Rolled out in phases throughout 2014 the project will bring city water and sewer to residents in the 4 square mile section called Southwest 6 and 7.  Construction on the new Sam's Club has started at the intersection of Pine Island and Hancock Bridge Parkway and the new Golden Coral Restaurant is open on Pine Island Road.
You can also feel the movement forward as a sense of community has taken shape within the city.  Art festivals, cultural events, theater, the Farmer's Markets  off Cape Coral Parkway and the Surfside area, kayaking in the preserve, festive restaurants like Iguana Mia, Ford's Garage and Pincher's Crab shack are brimming with patrons both from locals as well as visiting snowbirds. Sunset festivals, chocolate festivals and of course Bike Night top off the events.   It's March spring is around the corner and we are still blessed with terrific weather compared to the rest of the country!  It's great to be in Cape Coral!
Real Estate Trends
Cape Coral Market Snapshot as of 02/01/2014 – Decreased inventory, increased median price and a decease in distressed properties – All good factors for a healthy housing market in Cape Coral
Source:  http://www.movoto.com/cape-coral-fl/market-trends/
| | | | | |
| --- | --- | --- | --- | --- |
| | Today | 1 Month Ago | 1 Year Ago | Change |
| Total   Inventory | 1606 | 1504 | 1680 | -4% |
| Median List   Price | $234,999.00 | $229,900.00 | $198,900.00 | 18% |
| % Distressed | 4 | 4 | 12 | |
| Median DOM | 59 | 67 | 70 | -16% |
| Median House   Size | 1900 | 1890 | 1825 | 4% |
| Median $/Sqft | 121 | 121 | 109 | 11% |
Trends Cape Coral Median Price of Homes

Population Trends on the Rise in Cape Coral
Back in the growth phase again, "Cape Coral the region's most populous city, grew by 6,764 people between 2010 and 2013, UF estimates show. Nearly 160,000 reside in the Cape."
"Just before the recession Cape Coral was one of the top five fastest growing cities in America," recalls Kevin Pickett, a Lee County-based broker associate with Right Choice Realty. "With all the new construction, the availability of land to do new construction, we're starting to see it come back to that. Many homebuyers are baby boomer retirees from the Midwest and Northeast, but a surprising number are younger, Mr. Pickett said. His office sampled 100 recent buyers and found that 60 percent were between age 35 and 45."  http://fortmyers.floridaweekly.com/news/2014-02-12/Top_News/Florida_population_growth_returns_to_form.html
A Boaters' Paradise!
Whether you are a permanent resident of Cape Coral or a seasonal visitor, you are in a boaters' paradise.  With so many canals and waterways you can take to the water and explore the many areas in and around Cape Coral and Fort Myers and even venture out to the Gulf of Mexico!
Let's start with the Caloo waterway, the Caloosahatchee River runs along both shorelines of Fort Myers and Cape Coral  all the way to the Franklin Locks, to Pine Island Sound and to the Gulf of Mexico. Up river, there is fresh water areas ideal for fishing and water skiing. There are  public parks and marinas on either side of the river.  Downstream takes you out toward Sanibel Island and the Gulf of Mexico.
Within the Cape Coral Canal System you can navigate to various lakes and freshwater areas.  Over 400 miles of canals are found within Cape Coral.  That's what makes this city unique1  The canals come in different widths and sizes, some freshwater, some saltwater.  Saltwater canals refers to those with Gulf access, freshwater canals do not!  The freshwater canal system makes up for this with a large network of lakes and basins for freshwater fishing.   There are numerous boat ramps and launches to accommodate any size craft.   Cape Coral includes sailboat access canals, direct access canals, and partially restricted access canals.  A common misconception is that "direct access" means no bridges are along the path: this is not necessarily true!  Direct access means that there are no locks or lifts interrupting the flow of water.  Multiple bridges still qualifies as direct access (and bridge heights can vary).  If it's completely uninterrupted canals you want, then you are looking for unrestricted, sailboat access canals.
Cape Coral Sunset Festivals
On the first Wednesday of each month at the Cape Coral Yacht Club, you'll find residents and visitors gathering for the Sunset Festival.  Sponsored by the City of Cape Coral, the festival is a great way to promote the community spirit of the city.  I attended my first festival in February.  There were close to a thousand people in attendance!  My wife and I browsed the many vendor stalls offering a diversity of merchandise.  There was music and food available and  attendees were already finding their favorite spot on the beach or the fishing pier to catch the setting sun.  Met some folks from the northeast and Midwest while walking on the pier and recounted our good  fortunate that we were to be here on the beach in early February.  Some great music with a local deejay played in the background as we watched the sun gradually dip in the west.  Soon the hues of red and orange were replaced by violets and indigo as evening fell on the beach. We are making it a priority to attend the next festival.  A great way to spend a Wednesday night and best of it's free!  A tip – come early parking fills up pretty quickly although there are additional parking areas a  short walk from the  beach!
Dolphin Spotting!
Looking to catch a glimpse of bottle nose dolphins and enjoy a cruise on the waterways between Fort Myers Beach and Sanibel Island?  Then  the Fort Myers Princess Dolphin Cruise is your destination.  We have done the cruise a few times with friends who have come to visit us.  It's true when you move to Florida, you'll never be without visitors!  We enjoyed our last trip with Charlene and Elias, friends of our from Mendon, MA.  The Fort Myers Princess is located at 645 Old San Carlos Blvd. on Fort Myers Beach, under the skyway bridge  behind "Nervous Nellie's," adjacent to the  "Marina Village Resort Condominium" dock.  Sailings begin at 12:30 on Mondays, Wednesday and Friday.
There is ample room with upper and lower deck seating.  There is a full service beverage bar with snacks and do try the
Paradise Punch a specialty!  The cruise navigates up the San Carlos Bay and then out towards Sanibel Island.  There is plenty to see from lavish waterfront homes to the shrimp fleet as well as countless numbers of water birds and of course dolphins.  The crew will expertly navigate to the dolphin sightings and you can get some pretty good camera shots.  The outbound voyage ends at Sanibel Light and then proceeds back to Fort Myers Beach.  After the cruise you can stop for a bite to eat at Nervous Nellies Eatery or take a stroll down to Times Square on the beach,  There is a large fishing pier at the beach and many restaurants and of course shopping long the beach area.  It's an enjoyable afternoon!   See details at the following link:  Dolphin Tour
What's Happening in March!
March 1- South Cape Mardi Gras Party Crawl- 7-11PM Celebrate Mardi Gras South Cape style. Enjoy the many nightlife establishments that call South Cape home with exclusive drink specials, and an opportunity to win prizes
March 1-2- Irish American Festival- Cape Coral flows green as people come out to celebrate St. Patrick and the
Irish at this family-friendly festival. Hosted by the Cape Coral Irish American Club, the Irish Festival brings to Cape Coral authentic Irish food, music and fun for the entire family.The Cape Coral Irish Club is holding its Tenth Annual Irish Festival
Saturday, March 1, 2014, 11:00 a.m. to 9:30 p.m. and  Sunday, March 2, 2014, 11:00 a.m. (Roman Catholic Mass) to 9:30 p.m.   Two Days of Continuous Irish Entertainment,  Plus  Games, Rides, Art & Crafts, Vendors  Food and Refreshments!    The United Irish will be sponsoring a tent at this event and we hope you will visit us.  Pick up your Irish T-Shirt, Visor, Kooles and  Especially those Raffle Tickets for  the Irish Trip to Dublin!  Come and Enjoy!!
For more information click on the link:  Irish Festival
March 5- Sunset Celebration- Enjoy Southwest Florida's fabulous sunsets on the first Wednesday of every month.
Over 30 vendors selling arts, crafts, jewelry, and gift items
Food & drink
Fabulous SW Florida sunsets!
Live music on the beach
Free Admission
Yacht Club Community Park  Phone:  239-574-0806 for more information.
March 9 – Art Focus Festival -A Day of Art in Rubicond Park!  Free and open to the public! Art exhibits, free class demos and more.  4355 Coronado Parkway, Cape Coral.  Here is the link:  Art Focus Fest
March 14- All Walks of Art Festival- This family friendly event promotes the number of artists we have in the area. Over 60 artists from all avenues present their works, as well as create art live at the event. Live music, food
, and drinks are available, as well as raffles and silent auctions.  More information at All Walks of Art
March 14- Sounds of Jazz & Blues Festival- Enjoy a night of dreamy smooth jazz and blues. Held at The Westin    Resort at Marina Village, the event is a fabulous night filled with fantastic music, sumptuous food & beverages, and what is sure to be an evening to remember.  More information at Jazz and Blues Fest
March 15-16 – Gathering of Giants- Cape Coral R/Seahawks present the 20th Annual
Gathering of the Giants at Seahawk Air Park, featuring Jets, Warbirds, Stunt Planes, and more! This two day event attracts thousands who come out and marvel at the aerobatic stunts from the radio controlled airplanes.  For more information click here: Gathering of Giants
March 16  Noon to 5PM – Gardenfest- This is a must do event for those who enjoy authentic German food and entertainment. Plenty of schnitzel, brats, potato pancakes, chicken, pretzels, beer and wine is on tap for this annual event. There will  also be authentic live German music on the stages throughout the event.   For more information click here Gardenfest
Download Your Free Cape Coral Parks and Recreation Guide 2014 Winter Edition here: http://publ.com/t1CwgP#1
Cape Coral Parks & Recreation Program Guide Winter 2014 (Jan – April) Download your interactive guide to all activities, programs and information on what's happening in Cape Coral – from Arts to Zumba it has it all! here:
Visit the Housing and Mortgage News Page
Get insights on the housing market, mortgages and other helpful tips!
This Months Topics:
10 Real Estate Terms Every Buyer and Seller Should Know
Flood Insurance Do I need It?
How to Have Peace of Mind and Security for the Open House
Benefits in Making that One Extra Mortgage Payment Each Year
What's Hot & What's Not Kitchen Remodeling 2014
See You in April!
We trust that you have enjoyed this issue of "Livin on the Cape".  Our mission continues to focus on being the good will
ambassadors for Cape Coral and the surrounding area of Southwest Florida.  If you are interested in more information or looking for that special place to claim as your new home send us an email by clicking on our email contact information at the top right hand corner of the blog.  Thank you and Happy St. Patrick's Day!

February on the Cape!
Its February a time for celebration on the Cape!  Super Bowl XLVIII Broncos versus Seahawks is the talk of the town!  Looks like a "Surf and Turf" competition.- Numerous sports bars, tiki bars and other venues will be ready to host their own Super Bowl extravaganza come game day.   A great benefit of "Livin on the Cape" is that we will be having nice 80 degree weather come game day and many will be having their Super Bowl get together on their lanai wearing shorts, tees and sandals!  A far cry from the 23 degree weather for kick off at Met Life Stadium  on Sunday evening in New Jersey!  So I'll be outside with a front row seat watching on the TV lanai!  Cheers! There's more than just the Super Bowl to celebrate in Cape Coral.  The Sunset Festival, Bike Night, Symphony at Sunset, Walk of Art Festival, the Garden Fest and the Burrowing Owls are back for their own festival event.  And of course let's not forget Valentines Day!  So there's a lot to celebrate and its all here "Livin on the Cape"!  Scroll down for more details on all of these February events!
Cape Coral Means Business in 2014!
Great news!  Everywhere there are signs of Cape Coral moving forward in 2014!  Forbes magazine rates Cape Coral as third in the nation tied with Austin Texas as to where the jobs will be in 2014.  A recovering housing market, increased infra structure investment and quality of life …has increased commercial business opportunities.  A new super Wal Mart, Sam's Club and other businesses are slated for 2014! It's the place to be in 2014!  Read more here
Why Cape Coral?
Cape Coral A Natural Fit For Work and Play!
Why move to Cape Coral?  There are a ton of reasons.  Besides the great weather  Did you know that Cape Coral:
Is the

4th fastest growing

city in the US?

Has approximately

 8,000 businesses

, including industrial and white-collar businesses serving global customers

While the main economic drivers are real estate and construction, the Cape is home to several

emerging business clusters

such as finance, insurance, and real estate services, health-related services, professional business services, including architecture, engineering, law, accounting, and management consulting.

More than half of Cape Coral's

population is age 45 or younger

, and residents under 25 outnumber those over 65.

Has a

large infrastructure investment and practices green environmental policies

, utilizing sustainable growth practices to include drinking water production and wastewater treatment.  Recycled water resources for home and commercial irrigation systems.

Cape Coral is a growth market.

Only about 45 percent of the city's pre-platted lots are developed

.  It is  predicted that the population will exceed 400,000 at build-out.

The Cape is served by FGCU (Florida Gulf Coast University) , which opened in 1997 and now serves

more than 8,000 undergraduate and graduate students

along with numerous other educational institutions.
Want to get more facts and information on why to relocate you and your business to Cape Coral?  Click on to the Cape Coral Economic Development Office site.
February Events
 February 5th  Sunset Celebration!                                                        4-7PM at the Cape Coral Yacht Club
Enjoy those marvelous SW Florida sunsets the first Wednesday of each month at the Sunset Celebration at the Cape Coral Yacht Club.  Food, live music and drink specials.  Over 30 unique artists and vendors will have their wares on display for your shopping pleasure.  Free admission!
February 8th Cape Coral Bike Night!
Saturday 5-10 PM SE 47th Terrace Between Coronado Pkwy. & Vincennes Blvd. Cape Coral, FL  3904
Cape Coral Bike Night is the premier event for motorcycle enthusiasts!  Join over 10,000 people for a night of fun, food, drinks, live music and a host of vendors.
February 9th  Sunday Symphony at Sunset 
Gates open at 1pm, Concert at 4:30pm
Four Freedoms Park 4818 Tarpon Court, Cape Coral just south of Cape Coral Parkway between SE 5th and 6th Avenues
The Gulf Coast Symphony, Southwest Florida's premier community orchestra, presents its much anticipated free outdoor SYMPHONY AT SUNSET at Four Freedoms Park in Cape Coral. The performance is free and open to the public. No tickets or advanced reservations are required. This expanded community event celebrates both culinary arts and music. Sample an international array of great food from more than 20 local
restaurants, plus a wide variety of craft beers, margaritas,
and wine. Enjoy musical performances from local school
groups, and finish the day with another sensational Symphony at
Sunset. Enjoy a selection of Broadway favorites and light classics in a
beautiful Southwest Florida setting–from Southwest Florida's premier community orchestra! Bring blankets or lawn chairs and make it a great day!
February 15- All Walks of Art Festival
– On Saturday February 15th, Circus Arts United will be will be shutting down 47th Terrace from Vincennes Blvd., to 10th Pl., in Downtown Cape Coral to bring SWFL an amazing collaboration of Artists, Musicians & Entertainment!!!!! 
There will be 60+ artists displaying work. We have 20 live performers including stilts, aerial silks with trapeze rigging, fire performances, 2 local dance troupes, uni-cyclist, jugglers and 2 incredible magicians with a suspended 'houdini' act. We also have an amazing new live band dj called Frisson that plays keys, bass and drums to some amazing samples, the Bonita Beach rhythm circle, and we are working day and night to secure a stage for local musicians to perform.
February 16- Bavarian Garden Fest
The German American Club will host its annual Garden Fest on Sunday February 16th
Location:
German-American Social Club
2101 Pine Island Road
Cape Coral, FL  33910
This is a must do event for those who enjoy authentic German food and entertainment. Plenty of schnitzel, brats, potato pancakes, chicken, pretzels, beer and wine is on tap for this annual event. There will also be authentic live German music on the stages throughout the event as well as commercial vendors and crafts.
February 22- Burrowing Owl Festival
Rotary Park 5505 Rose Garden Rd.                                                                              Cape Coral, FL  33914                                                                                               (239) 549-4606
Cape Coral is home to the largest known population of the Florida Burrowing Owl, which is a species of special concern.
These pint sized birds burrow underground where they nest from late February through July and are now the official city bird of Cape Coral.
Please join us as this fun filled family event celebrates the start of the burrowing owl nesting season and all Cape Coral's natural wildlife treasures.
A partial listing of festival highlights include wildlife artists & photographers of all things natural, native and wild, environmental and wildlife organizations with educational exhibits and live animals, guided nature walks for wildlife viewing, and bus tours to local burrowing owl burrows.  A variety of native plants will be offered for sale.  Also on site will be music and several food vendors so plan to spend the day. Event proceeds will go toward local wildlife protection, preservation and education.  Admission is $5 donation for ages over 16.
Visit the Housing and Mortgage News Page
Get insights on the housing market, mortgages and other helpful tips!  Click here
See You in March!
We trust that you have enjoyed this issue of "Livin on the Cape".  Our mission continues to focus on being the good will ambassadors for Cape Coral and the surrounding area of Southwest Florida.  If you are interested in more information or looking for that special place to claim as your new home send us an email by clicking on our email contact information at the top right hand corner of the blog.  Thank you and Happy Valentines Day!